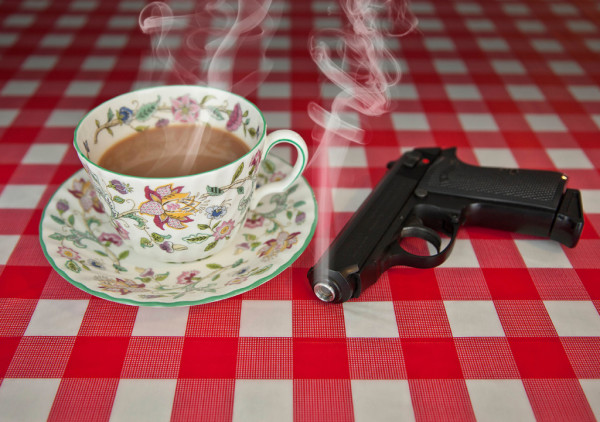 Cleaning Up is an excellent short film by Simon and Thomas Guerrier  which stars Mark Gatiss (The League of Gentlemen, Sherlock) as a slick hitman and Louise Jameson (Doctor Who, Doc Martin) as a seemingly harmless and flirty B&B proprietor. After winning awards all over the shop, funds are now being sought to turn this stylish short thriller into a stylish feature thriller. And you can help by purchasing said short film for a small fee.
Discerning readers of New Empress Magazine: you may have encountered this short film in the company of our charming Editor-in-chief Helen Cox and the talented Guerrier brothers themselves, as Cleaning Up featured as an attraction at one of our Film and Quiz nights last year. So if you saw it last year with us or want to see it this year, the film may be purchased from production company Big Finish ( www.BigFinish.com ) in a standard or special edition as below;
£1.99 ROOKIE – the film
£4.99 HITMAN – the film plus alternate 'first cut' with writer/director commentary, a behind the scenes film, images gallery, soundtrack and scripts
Mark Gatiss and Louise Jameson are joined by a supporting cast which includes Tracy-Ann Oberman ( The Infidel , Friday Night Dinner ), award-winning comedian Tom Allen and Nicholas Briggs – voice of the Daleks.
So, for an extremely small fee, you get an awesome short film, you get to help to raise money for development of that awesome short film and you'll support Big Finish as it makes its first step into feature films. So please do buy the film and tell your friends to do the same, or else the Daleks might come and get you.
Big Finish presents: Cleaning Up
Cleaning Up is the first short film produced by Big Finish Productions.
Since 1998, Big Finish has produced more than a thousand hours of audio drama including Doctor Who , Sherlock Holmes , Blake's 7 , Dark Shadows , Stargate , Highlander and Judge Dredd .
In 2010 Big Finish co-funded the Guerrier brothers to make the short film Cleaning Up starring Mark Gatiss and Louise Jameson.