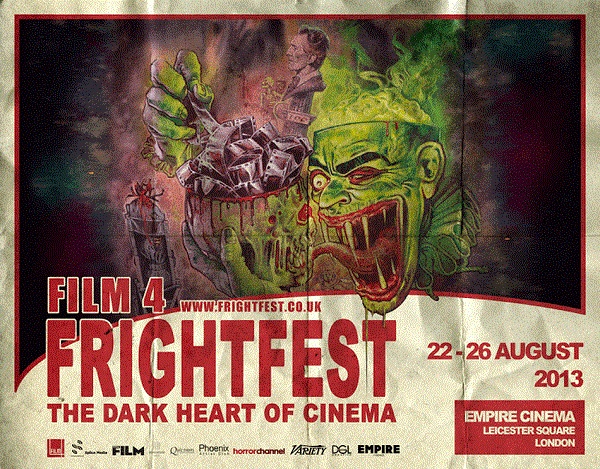 Horror fans are starting to get giddy with excitement as Film4 FrightFest's 2013 festival is just around the corner (T-minus 29 days and counting). The full line-up was announced a few weeks ago and you can read it here . This week, the short film programme was unveiled along with a list of directors, actors and writers who'll be at the festival supporting their latest horror offerings.
Film4 FrightFest along with Horror Channel will be screening a selection of horror shorts over the course of festivities (which runs from 22nd August to 26th). James Moran's Crazy For You, Dominic Brunt's Shell Shocked, Jovanka Vuckovic's The Guest and Paul Davis's The Body will get showcased with other films such as The Halsall Brothers' If I Had a Heart and Toby Meakins' Breathe.
FrightFest co-director Paul McEvoy said this:
"This year's brilliant and insane mix of shorts includes outstanding World Premieres from some FrightFest favourites and some exciting new cinematic blood. Behold and enjoy!"
You can read the full line-up and individual screening times for the shorts here .
But wait, there's more, dear reader. After last year's inaugural Variety Award – it was given to the master of make-up and effects Greg Nicotero – the 2nd recipient is Britain's Ben Wheatley, the filmmaker behind such highly successful movies as Kill List and A Field in England. The director will take part in a Q&A hosted by Empire magazine's Damon Wise.
Upon hearing the news, Wheatley said:
"Attending FrightFest is like being plugged into the brain of Genre cinema. A true group experience. Over a thousand serious fans praying at the altar of Horror then spilling out into the Foyer to digest what they have just seen before diving back for more…it's great".
This year's guest list includes 34 directors. Adam Green, The Ford Brothers, Jessie Eisener, Gareth Evans, Suri Krishnamma, Steven R. Monroe, Aharon Keshales and Navot Papushado, Bobcat Goldthwait and Don Mancini are just some of the names confirmed to attend.
Film4 FrightFest kicks off on 22nd August and runs until 26th August. Tickets for individual screenings go on sale tomorrow (27th July) and can be ordered via Empire Cinema's phone number: 08 714 714 714 or www.empirecinemas.co.uk .
Source: Clout Comms