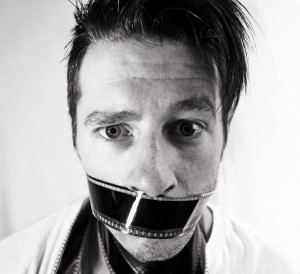 Director/musician Andrew McKenzie is a busy man. In the last twelve months, he's managed to find the time to work on two films with Simon Pegg, produce some short films/music videos and play in a band on the same bill as the Prodigy and Eminem. So, we at New Empress thought we would grab a chat with him to see how it all came about…
First off, tell us how did you come to work with Simon Pegg?
My close friend is Simon's personal assistant and when she found out I was making short films etc she very gratefully passed on some of my previous work to people she knew. I received a call asking if I would like to be involved with some filming of The World's End, of course I love the films anyway so any chance to work with those guys was a chance not to be missed. I was one of the aliens aka "blanks" and we were doing night shoots at -4 degrees in Letchworth. Edgar Wright is a perfectionist, so there wasn't any less than ten takes per shot. Simon and I built up a relationship during the making of that film, so when they needed a stand-in/runner for Simon on his new film Hector and the Search For Happiness I jumped at the chance to work with him again.
You started a few years ago with a short film called "Kings Parade", what was the idea and hope behind that?
I'd made a couple of music videos for my previous band, so I thought I need to make something of my own. I decided to make a short film based on one of the segments from "Paris, Je T'aime", I really loved that story, so thought I could re-tell that story in Cambridge, where I live. We filmed in Cambridge during the London riots, so when we did the stabbing scene we had quite a bit of interest from the passers-by and also an ambulance turned up. We had to make our apologies to everyone. I just wanted to make an emotional piece and see if I could pull it off.
There is a lot of music usage; does that come from your other work of being in a band?
I find I get most of my inspiration from music. I hear music and start to visualise a film that could go with that song. The song that's in the short film is written by my housemate, and as he was writing it I could picture the scene that could accompany it.
You have another short film coming out?
Yeah, it's called "Alien In The House". I live in a house with a group of friends but we are moving out soon so we decided to make a short flashy Edgar Wright type horror comedy. As time progressed and more people saw the rough cuts, I managed to bring onboard a producer and some actors. Cambridge Comic-Con wanted to show the film before they had even see the trailer, as it was recommended to them. We had the premiere in a local pub as I felt the film is more to be seen stood holding a pint rather than at home, as it is a crazy comedy. There isn't much dialogue in it; we've kept it very simple. It wasn't what I intended to do for my second short film, I probably would have gone for a straight up horror film, but it just sort of happened and became a runaway train.
You are also in a band called ANiMAL, so what came first – musician or director?
I previously made music videos for my old band, and that moved on to doing it for my current band ANiMAL. Music and films go hand in hand, and all I want to do is play music and make films. I'm lucky enough to do both in this band. My music videos have always been short films, it's never been a band just playing in a barn, and every one of my music videos has been different. I think I'm completely even as a musician and director, I don't see why you can't do both.
The music videos for "Jump" and "The Animal Cage" have a distinct dirty horror feel to them, is that on purpose?
I like to make some things that are quite shocking and, possibly, something you don't see coming. On the first film the idea was to just kidnap the entire band. But as there was zero budget it was a case of keeping the setting in one place, so we filmed it all in our house. Forgot completely about health and safety and only really thought about it when our lead actor Andre had a real knife pressed to my throat and was jumping around, it was only then that I thought "Ooo I could get seriously hurt here". But in the end it all worked out very well. That video has had the best reception of anything I've ever done.
What's next for you?
We, the band, are looking at making a full length horror film completely sound tracked by us. We have the idea and are slowly bringing it together, but at present we are on tour so it's had to take a backseat for a while. But that is probably going to happen at some point and we plan on filming in London this time.
As a final question, could you give us any gossip on working with Simon Pegg?
Whilst we were filming Hector and the Search For Happiness, we were locking off the Millennium Bridge so Simon could film in the middle of it. Simon had hurt his leg during his time on the set in Vancouver, so he was in a wheelchair between takes and being pushed around. So when the take was over we could let people walk across the bridge again whilst they reset all the equipment etc. Simon thought it would be funny to start shouting at all the people walking past as he was sat in the wheelchair and pointing at people with his cane. He was shouting "I was in Star Trek, I'm Scotty" and tapping people with his stick. But as he was made up no one could tell it was him, so they all thought it was some random crazy person trying to jab them with a stick. Most people were terrified of him… Yet he is the nicest guy ever and wouldn't normally do anything like that, it was just because he was in disguise that he could get away with it. Having only met him on The World's End, by the time we were filming Hector he had become like a really close mate and he loves all the geeky things and is naturally funny. I know he did some stand-up when he was younger, well he could carry that on now if he wanted. He also has the ability to become a director, maybe one day he will move into that area as well.
You can see more of Andrew's work here: