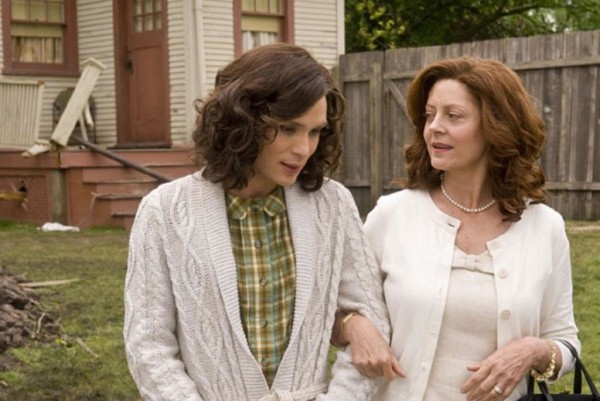 It's a shame that so many great films bypass cinemas and vanish straight into rental obscurity. Hopefully one day those worthy will be discovered and celebrated by a wider audience while lesser efforts perish for being so brain achingly dire. Considering the cast, it is initially surprising that Peacock has gone straight to DVD. Not only is it such a unique melding of genres, blending elements of Hitchcock and David Lynch, but it is also compelling with decent performances.
Cillian Murphy is fitting as stuttering, small town banker John Skillpa, introduced as his cross dressing alter-ego Emma. By day he goes under the guise of a studious, jittery office worker while behind closed doors John's evenings are spent as his female counterpart. Settled in routine, John's world is suddenly blown apart when a train crashes into his backyard exposing his alter-ego to the rest of the town. Fortunately no one recognises him and the town assumes it is John's never before seen wife. As the crash soon becomes the focus of the press and the mayor's office John finds himself under scrutiny from a prying community while struggling to maintain a grip on his sanity.
Peacock is an absorbing, slow burning psychological drama with a tantalising concept but is sometimes let down by unbelievable scenarios such as the town's inability to gauge that Emma is John and vice versa. Even those close to John fail to realise but suspend disbelief and Peacock is an intriguing feature. Murphy stutters amicably in the lead, but is more convincing as Emma, and works well alongside solid support from Susan Sarandon as the mayor's wife, Bill Pullman as his boss and Ellen Page as the "other" woman in John's life.
Peacock fails to scratch the surface of its protagonist where a greater probing and added suspense would have made for much more scintillating cinema. With this in mind it is probably more fitting in its home on the small screen but is more than worthy of a one off watch. Peacock was long-time Tarantino collaborator Sally Menke's last contribution to the film world before her death in September 2010; a fact that perhaps adds extra ballast to make sure that this particular example of straight-to-DVD fare does not sink without a trace.
Extras:  An above average 'making of' reveals interesting research was conducted into personality disorders amongst generic talking head interviews. The origins of the screenplay and writing process are also explored making it a more interesting than most behind the scenes featurettes.
  Daniel has awarded Peacock on DVD three Torches of Truth