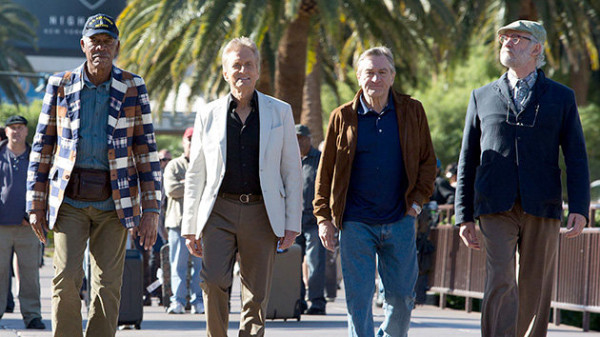 The old saying "What happens in Vegas stays in Vegas" should mean that we don't get any movies set under the neon lights of the USA's gambling Mecca. But with the recent success of The Hangover films, it seems the populous city in the state of Nevada is the perfect place for a comedy film and with Last Vegas we appear to have The O.A.P. Hangover; the lead cast consisting of sparkly-eyed old timers Robert De Niro, Kevin Kline, Morgan Freeman and Michael Douglas.
Sixty-something friends Paddy (De Niro), Archie (Freeman) and Sam (Kline) decide to throw a bachelor party in Vegas for their friend Billy (Douglas), as he embarks on marriage with a lady half his age. Age being what it is, the once virile men struggle to cope with the hedonistic lifestyle and being in close proximity to each other for an entire weekend.
It's difficult to imagine the studio picking a better bunch of actors for the lead roles. All four guys bring a different element of old age to the film yet when combined it's like one mega oppressive social commentary on the older generation, but with enough lighthearted humour and satire that it works wonderfully well. Some of the funniest moments are seeing each individual trying to go wild on his particular favourite area of Vegas [gambling, sex and drinking] . Yet the finest parts of the film are reserved for the emotionally charged but humorous interaction between Paddy and Billy; a festering history between them finally boiling over when they both set eyes on sultry lounge singer Diana [the unusually cast Mary Steenburgen] .
The jokes hit home with precision and perfect timing, never overstepping the mark; a great testament to the direction of Jon Turteltaub [Cool Runnings (1993), Phenomenon (1996) and, ahem, National Treasure (2004)] and originality of lead writer Dan Fogelman [Crazy, Stupid, Love (2011) The Guilt Trip (2012)] in their decision to sidestep the obvious gross approach and instead actually make the humour more relevant to real life. There are jokes aplenty about popping pills and struggles with sex, yet Last Vegas also provides a valuable lesson: old age will come to us all, we just have to embrace what we have when we have it.
Mark has awarded Last Vegas four Torches of Truth