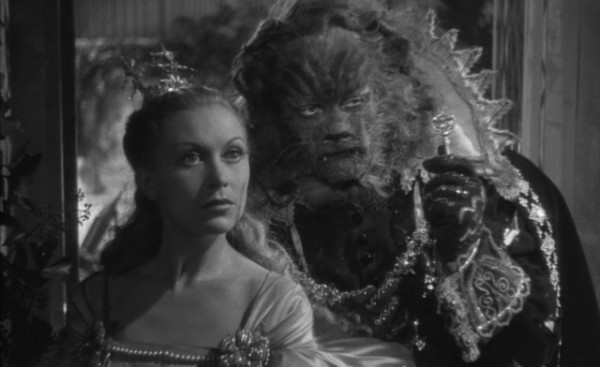 It may be a tale as old as time, but The Beauty and the Beast is now difficult to envision without animated images of an amorous candlestick or singing crockery springing to mind. Disney's version of the fairy tale may be widely known to younger audiences, but Jean Cocteau's La Belle et la Bête (1946) is a very different creature – an altogether darker vision.
A beautiful young woman, Belle (Josette Day), lives with her merchant father, good-for-nothing brother and obnoxious sisters. Rebuffing the advances of her brother's friend, Avenant (Jean Marais), Belle agrees to give up her freedom after her father unwittingly steals a single rose from the garden of la Bête (also played by Marais). She becomes a prisoner in his enchanted castle in place of the father, where the horrifying beast grants Belle a life of luxury whilst attempting to win her heart in the hope that she will marry him.
Cocteau introduces the yarn himself, breaking the fourth wall so that he may ask his viewers to suspend their disbelief as a child might; quite openly directing what follows at older audiences rather than a potentially adolescent one. This take on the folktale is as rich in ambiguous subtext and eerie unrest as it is in poetic mythology. The beast is not provided with a straightforward redemption character arc and there is no clear villain to hiss at. Instead, viewers are required to draw their own conclusions regarding the motivations and morality of the fanged and furry character and the true nature of the duo's relationship. The plot is arguably very similar to the later cartoon (with Aveant acting as a proto-Gaston) but also lends itself fiendishly to a far more troubling reading. The deft balance of playfulness, surrealism and a brooding uncanny atmosphere – heightened by the extraordinary castle – further serves to cloud the hidden meanings of this monochrome marvel.
The performances live up to the talented technical team assembled by the artistic Cocteau and together they conspire to leave you as spellbound and bewitched as the protagonists. It's another exquisite treat courtesy of the BFI's Gothic season but perhaps not one for the kids.
Ben has awarded La Belle et la Bête four Torches of Truth