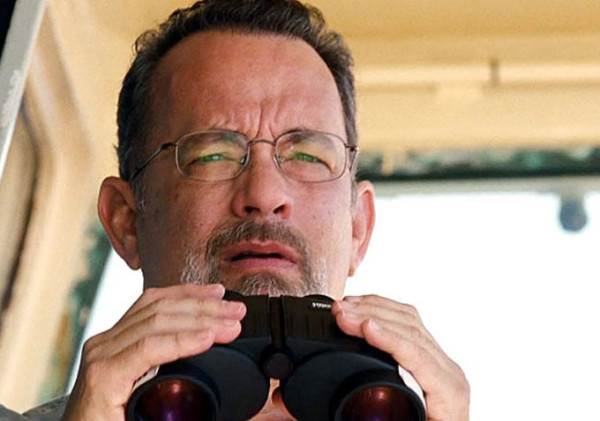 In 2009 the American cargo ship, MV Maersk Alabama, was boarded by a group of Somali pirates in international waters off the Horn of Africa. The subsequent hostile takeover led to a determined American naval intervention centred around the ship's captain, Richard Philips.
Tom Hanks as Captain Philips brings his lauded everyman qualities to the film's lead character, who is depicted as a capable, competent and intelligent professional mariner. Healthy-looking but without a Hollywood action man six-pack, Hanks as Philips looks like a relatable person facing a very uncertain situation.
Billy Ray's screenplay, thankfully, does not depict the Somali pirates as faceless thugs. Led by Muse (an excellent debut performance by Barkhad Abdi), the modern-day buccaneers are shown to be driven by poverty and the demands of local warlords. The film doesn't judge them outright as bad people, instead providing a believable background to their chosen activities and subsequent actions. With the American crew filled out mostly by character actors, such as Michael Chernus as the ship's second-in-command and Corey Johnson as Ken Quinton, bar the very recognisable Hanks, the outcome of the story is not as predictable as a film would be that cast 'faces' to flesh out potential audience appeal.
Director Paul Greengrass, who earned major praise for his Bourne sequels, has crafted a terrifying dramatic work. Captain Phillips is a tense two hours, which consistently ratchets up the stakes as the international implications of the situation mount around the desperate actions of men standing up to the might of the US navy. The British director's flare for action – along with his use of hand held camera style and rapid cutting – places the audience right in the middle of the cramped and frightening situation.
Captain Phillips does not fall back on generic concepts of heroism and Hanks gives a convincing performance that demonstrated moments of bravery, understandable stress, outright fear and trauma. Given time to establish all the characters, Captain Philips is a captivating modern-day action thriller with the kind of wider political discourse on the state of the world that has become Greengrass' calling card.
Mairéad has awarded Captain Phillips four Torches of Truth