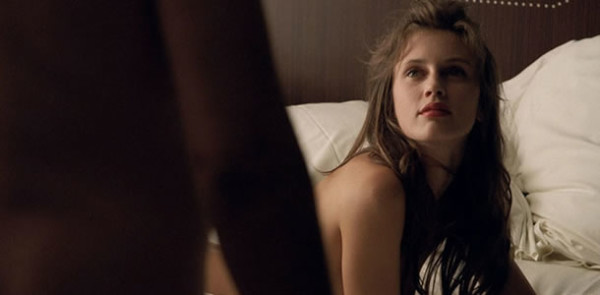 Another year, another fine film from François Ozon. He's assuming a role similar to the now-declining Pedro Almodóvar in UK film culture: that of a frisky, literate arthouse populist. But this new film is in a more dramatic, minor-key register compared to the comedic In the House (2012) and Potiche (2010), and far less effective for it.
Marine Vacth plays Isabelle, a bourgeois 17-year-old Parisian who takes on a secret double life as a high-class prostitute. After losing her virginity on a beach holiday fling, she uses the opportunity in this new outlet to explore her burgeoning sexuality. Her clients are usually much older men, some of whom are elegant gentlemen tired of their wives; they treat Isabelle with respect. More predictably, she has to tend with the usual creepy sociopaths, but Isabelle maintains her regal, icy facade: controlled, poised and intimidating in her beauty.
Unlike Belle de Jour, which Jeune et Jolie resembles but is a far tamer and less stringently satirical, Ozon isn't out to indict the repression of the bourgeoisie. He would be telling us what we already know and Ozon is smarter and more canny than that. He's much more interested in how adolescents govern their identity, of youth as a site for adventurous sexual experimentation and of the voyeurism implicit in friendships and even family relationships.
The film is crisply edited, well-made and occasionally very visually inventive. But by its denouement, the purpose and confidence of the film-making don't amount to anything truly gratifying. It has an ultimately disposable quality, because however much Ozon artfully conceals in showing us Isabelle's secret routine, we're barred from confronting anything truly incisive and troubling about teenage prostitution beyond from the blank, disinterested way he presents it. Jeune et Jolie has a gestural, tossed-off quality, unveiling daring behaviour for our titillation and intrigue, whilst skirting its more profound and unsettling implications. Still, it's a pleasure to see Ozon prolifically turn out his wily, entertaining films; at one-a-year on average now, Ozon probes what fascinates him from strikingly different angles each time, which is more than you can say of Woody Allen, an obvious influence he's now far eclipsing.
David has awarded Jeune et Jolie three Torches of Truth