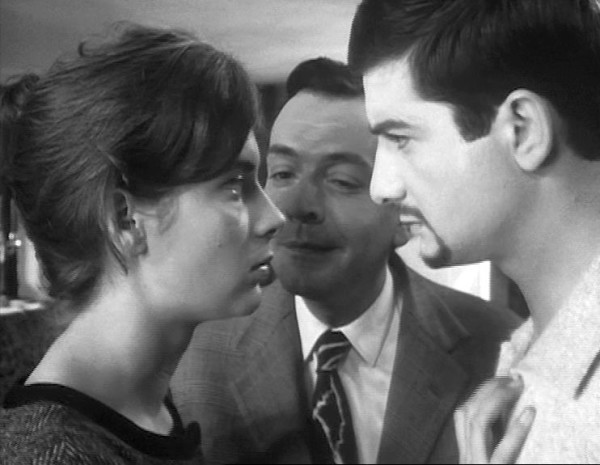 Charles (Gerard Blain) journeys to Paris from the French countryside to crash with his cousin, Paul (Jean-Claude Brialy), as they are both set to take an upcoming law exam. However, it soon becomes clear that only one of the cousins is committed to his work and the other would rather drag around with other bone-idle students and pleasure seekers. Charles falls for one of Paul's hangers-on, Florence (Juliette Mayniel), and sexual promises/alcohol intervene between the cousins leading to a tragic slide.
French New Wave director Claude Chabrol made Les Cousins months after his directorial debut Le Beau Serge, using the same two lead actors and good/bad guy styling as before. Yet here he has revelled in the Nouvelle Vague style of French film-making with particularly harsh cinematography throughout the streets of Paris; it easily catches the eye and makes for some wonderful viewing of the city.  From there it pulls the attention to some claustrophobic parties that make the film come straight into the camera and give no room for movement; with these scenes come the sexual desires of members of the group and their pursuit of extravagance.
Chabrol's direction plays perfectly in keeping to how these hipster, party people should be portrayed and the social gathering scenes contain some of the most crucial elements to understanding what these revellers desire and find. Blain and Brialy play off each other with perfect timing, their roles eventually becoming reversed after going through all manner of experiences which make for some dark viewing.
Les Cousins is the perfect counterpart to Les Enfants Terribles, both gems in the French New Wave cinematic era. Its deconstruction of the two cousins slowly falling away from each other shows how temperament and family relationships can come apart at the seams.
Mark has awarded Les Cousins four Torches of Truth