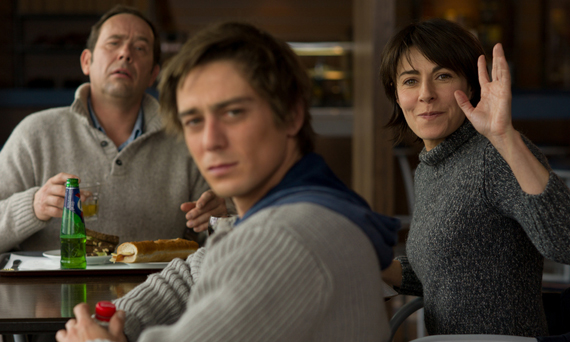 A mother (Marilyne Canto) wakes up to the disturbing news that her ski-instructor son (Adrien Jolivet) had an accident in the snowy Alps, an accident that she had clearly been worrying about for some time. The accident and a combined unwillingness to help from the various insurance companies means that she and her ex-husband (Olivier Gourmet) will have to go on a long and potentially excruciating drive together to collect their darling son.
On meeting this once-married pair you soon realise that the film could have focused on many things in their relationship [regret, annoyance, liberation] other than the remaining Tenderness between them . They have both moved on with their lives but in very different ways, especially so in the case of the positive and now relatively-carefree mother.
Tenderness is about the visible scars that love can leave behind, both bad and good. It is wryly funny and imbued with something much better than nostalgia; a fondness which acknowledges the reality of the past and the feeling that something precious had been given away without due consideration.
Tenderness contains very believable and warm performances from all three central characters, which all add up to something a bit different from the usual portrayals of divorced parents and their kids. And the cinematography in the Alpine scenes is extremely lovely and deserves a mention all of its own. Overall, very nice work from director Marion Hänsel.
Tenderness is showing on 10 November at Edinburgh Filmhouse, 16 November at Glasgow Film Theatre, 20 November at Cine Lumiere and 23 November at Aberdeen The Belmont.
Maryann has awarded Tenderness four Torches of Truth