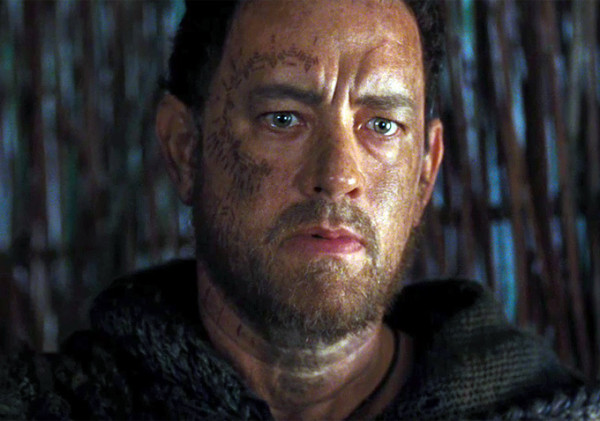 Words such as "audacious", "bold" and "epic" will inevitably be banded about by critics when summarising Cloud Atlas. Posters shall declare it the most staggeringly cinematic achievement since the last one, last week. Press hyperbole has split right down the middle regarding the Wachowskis' and Tom Tykwer's adaptation of David Mitchell's novel.
Cloud Atlas (the novel) offers six interrupted narratives set over the course of 500 years, with six characters seemingly reincarnations of the same soul. It works beautifully, with Mitchell's deft, multi-voiced style an absolute delight. Cloud Atlas has been labelled as an 'unfilmable' work of literature. The transmigration of the soul angle, however, allowed the filmmakers to cast actors in multiple roles. Quirky gambit or pure folly? It's a ruddy disaster, as hapless Timothy Cavendish (Jim Broadbent) might well say.
Changes are of course inevitable given the demands of two different storytelling mediums, but even at nearly three hours Cloud Atlas feels curiously rushed and in a hurry. The novel builds to a fine emotional payoff. The cosmic and the comic align to winning effects. These attributes are utterly lacking in the film. Opening with a montage that explicitly details what is mysterious and gripping in Mitchell's book is a major mistake, but quite possibly the only way the writers could make it work.
The Wachowskis, naturally, deliver the futuristic branches of the multi-narrative and mine their former Matrix glory with a story far richer and complicated on the page. One thing can be said for Cloud Atlas: the editing is often superb as it cuts between plot strands and themes in a way that the book cannot achieve. Here, we get characters in the same situations, experiencing near enough alternate variations of classic dilemmas and incidents, thus riffing cleverly on Nietzsche's 'eternal recurrence' notion and a smart condensing of Mitchell's plot points.
Yet Cloud Atlas is strangely unmoving. Neither does it have anything to say that the book hasn't already imparted. Whilst it is an admirable picture, the finish leaves a lot to be desired.
Martyn has awarded Cloud Atlas two Torches of Truth