By Mike Richardson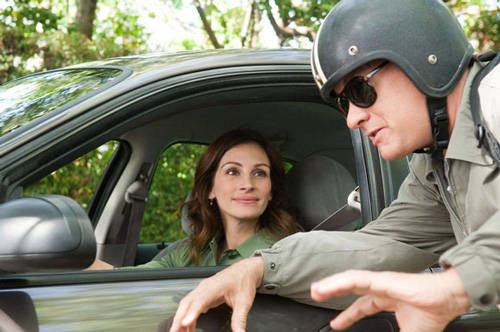 Remember when Tom Hanks was a box office guarantee? After landing with a bang in decent to great comedies like Splash (1984) and Big (1988), Hanks stepped up a gear and started actually 'acting', winning Oscars with films like Philadelphia (1993) and Forrest Gump (1994). For a period, which historians will refer to as the 1990s, Hanks had hit after hit with multiplex-tickling fodder like Sleepless in Seattle (1993), Apollo 13 (1995), Saving Private Ryan (1998), The Green Mile (1999) and  Cast Away (2000). In the midst of all this box-office success (U.S. domestic box office totals for all of Hanks's films exceeds US$3.9 billion!), he slipped in a directorial debut That Thing You Do (1996) which was well received and turned a modest profit. Chronicling the rise and fall of a one-hit-wonder band set in 1964,  Hanks had a supporting role and wrote the film, as well as directing it. The film was no Citizen Kane (1941) but it was perfectly charming.
Now 15 years later he's having another crack at the writing/directing game with Larry Crowne. Time has moved on and the fire-proof status of Hanks, who survived untainted from Bonfire of the Vanities and Joe Versus the Volcano (both 1990) in the 90s, is now somewhat shaky following noughties duds like The Ladykillers (2004) and Charlie Wilson's War (2007). In fact, in the last ten years Hanks's hits have been his voice work (everyone loves Toy Story's Woody) and those Dan Brown airport novel films. While his box-office balance is still rudely healthy, his hit generator status is anemic – Hanks the director could do with serving up a smash for Hanks the actor.
Larry Crowne is the story, and Hanks plays the title character, a store manager who's made redundant because he doesn't have an advanced degree. He heads back to college where he's the oldest man in the class, but still a lovable childlike imp (or an irritating, childish bore, depending on your mood). One of the things he learns at school is that he quite fancies his 'informal speech' teacher, played by Julia Roberts. Remember when Julia Roberts was a box-office guarantee? Those were the days.
A relationship blossoms (who'd have thought it) and the happy couple ride off together into the sunset, on a moped. What could have been a serious and grown-up look at a relationship between adults who may be past their prime instead was as uncomfortable as watching aged relatives snogging. The lack of on-screen chemistry that Hanks and Roberts had when they starred together in Charlie Wilson's War returns in spades. Whatever Tom and Julia had in the 90s, it looks like they left it there.
It's not just the stars that fail to shine. Scriptwriter Antonia Eugenia "Nia" Vardalos (who wrote the Hanks produced My Big Fat Greek Wedding (2002)) was brought in to punch up the funny, but the jokes are either too thin or the delivery from the leads too mild to raise any true cackles.  Further supporting guffaws are required from Cedric the Entertainer and Taraji P. Henson as Crowne's neighbors. Laugh? I didn't. In fact the consistent failure of the film's attempts at 'funny' made me wish I was re-watching Bridesmaids (2011).
Maybe I'm just too young for this film. The studio Universal reported that 71% of the audience that made up the film's opening weekend take were over 50 years old (and Hanks is now 55). A film about a recently redundant, down-but-not-out fiftysomething who turns his life around could have been both a timely comedy and a welcome return to audiences' hearts. Larry Crowne is neither.