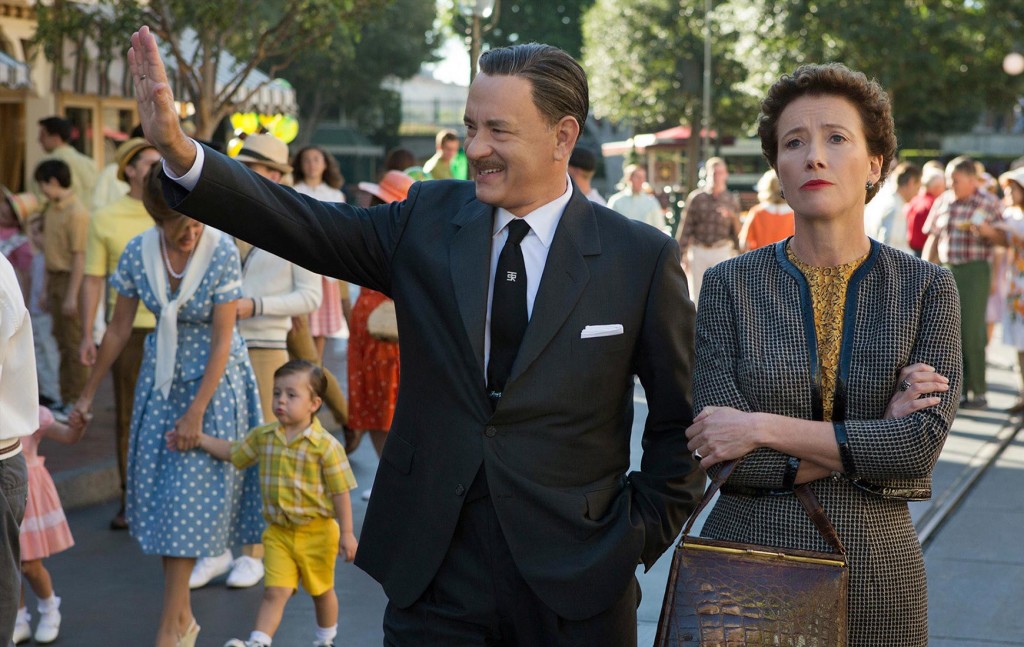 In Saving Mr. Banks, Disney Studios juxtapose an account of the making of their much-loved Mary Poppins movie alongside the early life story of P.L. Travers (Emma Thompson): writer of the Mary Poppins book series. Disney (Tom Hanks), it transpires, has been trying to make a Poppins film for about 20 years but Travers has refused to sell him the rights. A pending financial crisis forces her to reconsider and consequently she flies out to Los Angeles (on a plane not a magical umbrella, just to clarify) to ensure Mary Poppins isn't made too twinkly. On two points she was absolutely clear: the film would not be a musical and there would be no animation involved whatsoever. Cue the dancing penguins.
Viewers who know nothing about P.L. Travers and her endlessly enigmatic persona could quite squarely treat this film as a tragicomic introduction. Thompson is an actress who surrenders herself completely to a character and with a byzantine personality such as Pamela Travers the bravery of this cannot be understated. Every look, stance and word springs from the essence of the now-deceased author, who Thompson has thoroughly researched to fashion her performance. She is expert without contrivance, permitting the audience to relate to this truly odd person and lending weight to the third act revelations that follow.
Hanks is equally charismatic as Disney and effortlessly conveys Walt's shock that this woman is not rapt by him like everybody else. Thompson, Hanks and a dream of a supporting cast including Ruth Wilson, Paul Giamatti and Jason Schwartzman, are greatly aided by a taut script that boasts a laser-precision wit and also remembers the somewhat forgotten art of showing rather than telling. The pace of the piece is at times a little considered and on a technical note it's regrettable that Disney didn't film on location in Australia- their version of Down Under is a little under-cooked- but in terms of its emotional punch this is a difficult film to fault.
There is a desire among those who have done a bit more homework on the subject to place blame for this episode on either Travers or Disney; this film does a good job of downplaying the importance of this. Eminem once rapped about what happens "when a tornado meets a volcano" and arguably this is the cultural equivalent. They are equally contradictory characters and this picture is a practically perfect Disney/Travers 101, their respective stories – which if told in their entirety would be longer than the total run-time of every Peter Jackson film ever made – diced up for thoughtful and entertaining digestion.
Readers may also enjoy listening to P. L. Travers on Desert Island Discs and the television documentary The Secret Life Of Mary Poppins
Helen has awarded Saving Mr. Banks 4.5 Torches of Truth