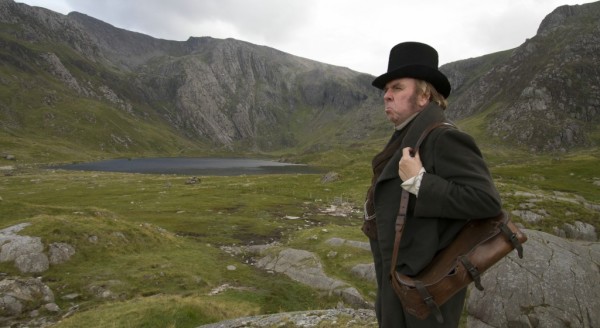 It's been fifteen years since Mike Leigh abandoned modern Britain to direct Topsy Turvy (1999), a musical drama about Gilbert and Sullivan. While retaining some characteristics of his modern work, Leigh has once again delved into the past, substituting the kitchen sink for the paintbrush and easel, to deliver another period biopic, this time focusing on the later life of landscape painter JMW Turner (Timothy Spall).
Mr Turner is a flourishing portrayal of the rugged artist, complimented by a smouldering lead performance from Timothy Spall and sumptuous cinematography by Dick Pope, which serves as a dreamy backdrop to the slightly offhand narrative. Following Turner from London to Margate and through various social circles, Leigh presents the artist as an oaf-like contradiction to his grandiose work.
Turner doesn't struggle against odds or with conflicts but rambles disenchanted and detached from the grim realities of struggling servants, contemporaries and an estranged family he barely acknowledges, while exuding a grunting indifference and beleaguering women between producing his masterworks.
The first 90 minutes are breathtaking but leisurely delivered, with an array of opulent, dialogue heavy scenes that stand well on their own but fail to fuse for a strong enough plotline. While characters blossom and expand into the scenes, Turner's complicated relationships with former spouse (Ruth Sheen), his children and doting housekeeper (Dorothy Atkinson) are addressed but not explored in detail, as the story, like Turner, evades complex drama. At times Spall's performance, while brittle and entertaining, appears more caricature than weighed down with conflicts and essence, though a scene in which he cries before a prostitute while sketching her, suggests substance.
Mr Turner is a film of brash characters and lavish landscapes. While a warts and whiskers Victorian London exists just out of reach of the middle class soirees, it simmers with relevance in the background. Leigh's twelfth feature (not counting his TV films) unravels like a dream but feels overlong at 150 minutes. The cast perform with passion in roles rich with humour and sadness while divine cinematography flatters a story that unfortunately wanes into monotony during the final act.
Daniel has awarded Mr Turner three Torches of Truth