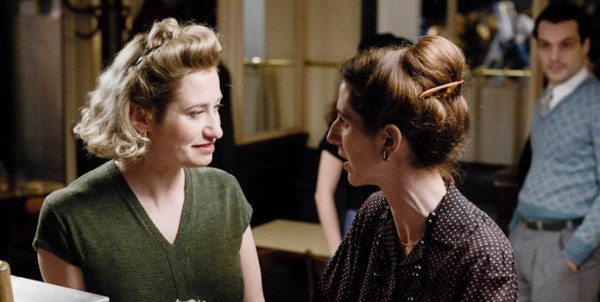 Rendez-vous with French Cinema 2014 has now come to an end but we shall leave you with this review summary from Mairéad, who has dutifully prepared reviews of Agnès B's My Name is Hmmm; Violette (pictured), on the contribution to art and feminism of Violette Leduc and Simone de Beauvoir, ending with Alain Resnais' last film, Life of Riley. Bon appétit!
My Name is Hmmm/Je M'appelle Hmmm (Dir. Agnès B)
Well known French fashion designer and film producer (Spring Breakers 2012) Agnès B. makes her directorial debut with My Name is Hmmm (Je M'appelle Hmmm). Céline (Lou-Lélia Demerliac) is a young girl who is being sexually abused by her father played by Jacques Bonnaffé. Her mother played by Sylvia Testud, is unaware of the abuse as she struggles to keep the family afloat working long hours as a waitress. When Céline has a respite from her father's abuse while on a school trip to the sea side, she steals away into the cab of Scottish trucker Peter (Douglas Gordon). Peter and Céline develop a natural friendship far more akin to a healthy father/daughter relationship which both are lacking in their separate lives.
While the performances, particularly of Demerliac and Gordon are to be praised, My Name is Hmmm suffers from what appears to be the limitations of an extremely low budget without the directorial skills to overcome said limitations. The film features affectations such as written phrases on the screen, dream sequences and an editing style which comes across more as sloppily naive and amateurish rather than considered and effective. There are also possible nods towards the Little Red Riding fairytale though this might be gleaning too much from a number of scenes that simply do not go anywhere in regards to the film's narrative, making the film overly long and bloated.
Mairéad has awarded My Name is Hmmm two Torches of Truth
Violette (Dir. Martin Provost)
Bio-pics of literary figures can be a tricky endeavour but director Martin Provost's Violette, a film about the later life of French author Violette Leduc (Emmanuelle Devos), creates a film filled with emotional vigour with the literary relationship shared between Leduc and established author Simone de Beauvoir (Sandrine Kiberlain) in post-war France and as Leduc finds her literary voice.
Haunted by her illegitimate birth, Violette is shown to constantly attempt to force relationships with people who do not and will never love her in the way that she hopes. The film begins with Violette struggling with the homosexuality of her writer husband Maurice Sachs (Olivier Py) as they live in poverty in rural war time France. The bulk of the film, however, focuses on Violette's post-war life as she becomes obsessed with de Beauvoir and throws herself into the unguaranteed endeavour of her own writing. The feminist agenda of de Beauvoir who wants to help liberate women with the type of honest, biographical style of Leduc shows the significance of both writers during the mid-20th century.
With excellent costuming and art direction, the film's strength particularly lays in the performances of Devos who inhabits nearly every scene and the taunt elegance of Kiberlain as de Beauvoir. Entertaining and endearing, we are given an education about feminist writing of that era in France and allowed an introduction to both authors, if either are unknown to the audience. The film does run a little long, at 2 hours 12 minutes, to capture all the geographical influences of Leduc's writing, though this does not detract from the overall impact of the film.
Mairéad has awarded Violette three Torches of Truth
Life of Riley (Dir. Alain Resnais)
The final film by French director Alain Resnais is an adaptation of the English play, The Life of Riley, by Alan Ayckbourn. A French language film, the story remains set in Yorkshire where a group of middle-aged friends are part of a local amateur dramatic group, rehearsing a play when the news that their long term friend, Georges has only months to live. Resnais uses the idea of a play within a play in terms of the film's art direction, using theatrical sets with cardboard cut-outs as scenery, while illustrations mark each of the location changes. Visually, Life of Riley therefore shares some DNA with Lars Von Trier's 2003 film Dogville, which used this more theatrical stage set to great effect.
However, Resnais' film is not populated with the kind of acting or writing talent that Dogville possesses. Except for the genuine talents of Sandrine Kiberlain as Georges' estranged wife Monica, the main cast are more akin to their amateur theatric characters. It is difficult to be fully assured that Sabine Azéma as Kathryn, for example, is unsure of the theatre-to-film characterisation of her part or if she simply is dreadfully over acting, but when compared to Kiberlain's performance, one has to consider that she is. The rest of the cast; Hippolyte Girardot as Colin, Caroline Sihol as Tamara, Michel Vuillermoz as Jack and the under-used André Dussollier as Simeon could often be thought to be playing to the theatrical rafters and forgetting that they are making a film, so broad are their performances.
The film also hopes to offer some comedy but although some might find a chuckle or two to be had, Life of Riley fails miserably in its comedic aspirations. The film's many affections are distracting and irritating, with the Yorkshire setting/translation into French sitting extremely ill with its audience. Not a fitting swan song for the great New Wave director Resnais.
Mairéad has awarded Life of Riley one Torch of Truth