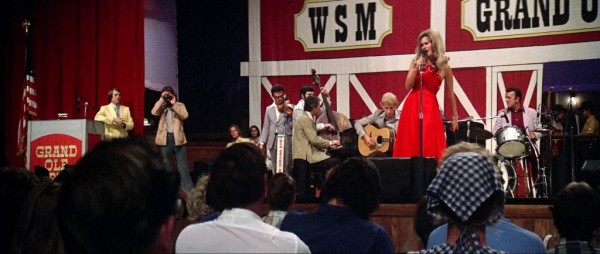 Robert Altman's ragged epic of American public life is both a jangling musical (there's an hour's worth of songs) and a drama with 24 main characters. The director's knack for overlapping dialogue and tapestry-style grandiosity brings a flavour of organised chaos to proceedings. Both vast and intimate, Nashville is a bitterly funny satire laced with tendrils of tragedy.
Masters of Cinema's Blu-ray release of the 1975 classic is a fresh restoration in 1080p HD. The film, set over the course of five days, follows the political campaign of third-party presidential candidate, Hal Philip Walker (who is never actually seen onscreen), and the lead-up to his all-singing Nashville fundraiser.
Geraldine Chaplin is Opal, a purported BBC journalist. She is meant to be making a documentary, but is so intolerably shrill and pretentious that she hardly hears a word anyone else says. It is she who provides a tenuous link between the other characters, one of whom is Keith Carradine's handsome folk singer, Tom – a phony, arrogant womaniser. He actively pursues a married woman (Lily Tomlin), who eventually falls prey to his charms. Ronee Blakley, too, brings a remarkable frailty to the role of country star Barbara Jean, a porcelain doll in white with ribbons in her hair. The sprawling cast of characters form a shimmering, often tacky surface, held together by sentimental songs and too much hairspray. Altman's view of things is by turns cynical, inquisitive, and even tender, as with Lily Tomlin's doting attention to her deaf sons.
Ostensibly, Nashville is about political theatre and the grand comic parade of celebrity that accompanies it. It also touches on exhibitionism, on missed opportunities, on myopic selfishness and on starry-eyed aspiration. Even at nearly 180 minutes long, Altman's film concludes with every loose thread left hanging. For Altman's world is too large and contains too much not to spill over. Now as in 1975, Nashville teems with life.
Extras
The Blu-ray disc includes two interviews with Robert Altman and his audio commentary, recorded in 2000, as well as one with screenwriter Joan Tewksbury and actor Michael Mur-phy. A 28-page booklet features new essays and stills.
Christina has awarded Nashville five Torches of Truth