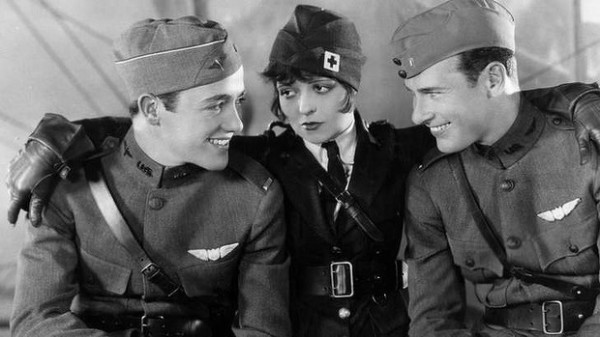 Jobyna Ralston may well be the subject of the fighter pilots' affections, but it's spunky Clara Bow that provides the heart in William Wellman's barnstorming First World War epic, Wings (1927). Mary (Bow) moons over the boy next door, Jack (Charles 'Buddy' Rogers), who ignores her in favour of popular socialite Sylvia (Ralston). Her heart, in turn, belongs to David (Richard Arlen) who is equally smitten. Rivals in love they may be, but when the call to war sounds, the two young men jet off to join the Aero Regiment and sock it to the Boche in their biplanes!
The inaugural Academy Awards ceremony presented Wings with the top gong in 1929 and it's easy to understand why. Spectacle abounds; from the depiction of trench warfare, to the excesses of a Parisian night club and, of course, the extraordinary string of thrilling aerial combat sequences.
Such aeronautic dynamism is inherently cinematic and Wellman, a WWI fighter pilot himself along with star Richard Arlen, milks it for all its worth. The authenticity provided by the practical ef-fects lends the piece a heightened tension and ultimately a fantastic sense of grandeur.
Bow may have famously described her role in the film as the "whipped cream on top of the pie" but if that is the case then it is ingredient which makes the dish. Mary follows her love into war-ravaged Europe and provides a perfect emotional accompaniment to the burgeoning brotherhood of the aces.
Extras
Unsurprisingly, Eureka's latest Masters of Cinema Blu-ray is another well stocked disc. Alongside being beautifully restored, Wellman's film can be viewed with a choice of musical accompaniment courtesy of two different scores. The first is a recreation of J.S Zamecnik's original music with sound effects by Ben Burtt and the second is composed by Gaylord Carter.
The disc also contains a trio of short documentaries on the making of the film, its restoration, and one that centres on vintage aircraft and discussion of the realities of dogfighting in WWI.
In addition to these is a near 50-page booklet that includes an essay on the film by Gina Telaroli and an interview with Wellman, in which he recalls performing one of the film's stunts. An excerpt from the director's autobiography rounds things off.
Ben has awarded Wings five Torches of Truth