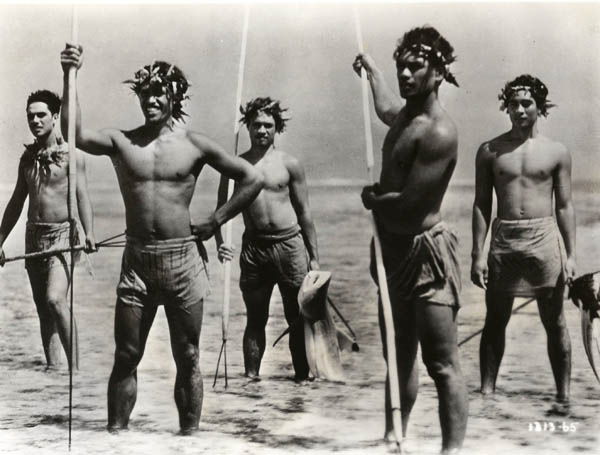 F.W. Murnau's last film received an absolutely gorgeous 75th anniversary restoration and is now released as a Blu-ray upgrade. It possibly hasn't looked this good since its debut in 1931. This Masters of Cinema rerelease not only provides the restored film itself, we also get served Murnau's approved cut before the likes of Paramount Pictures and others imposed their vision of Tabu upon the world, excising nudity and, in one scene, a thrusting pelvis!
Tabu: A Story of the South Seas was intended, tentatively, to be a co-directorial effort with acclaimed documentarian Robert J. Flaherty. The American, something of a guide to Murnau in the world and cultures of Polynesian tribes, was increasingly sidelined in the project until he was left running the lab processing the copious amounts of footage Murnau and his DOP, Floyd Crosby, were shooting daily. Flaherty directed the opening scene and nothing more.
Murnau's poetic love story follows a man and a woman forced apart by fate and tribal convention. Flaherty fell out with Murnau over their story's concept and direction, with the American accusing the cultivated German of westernising tribal life to fit his own vision. Flaherty didn't recognise or understand Tabu as a universal tale of love.
Murnau died in an auto wreck a week before Tabu's premiere in New York, an incident luridly recounted in Kenneth Anger's cruel but hilarious history of movie industry sleaze, Hollywood Babylon.
Extras
The Blu-ray comes with a fascinating audio commentary by Sight & Sound contributor Brad Stevens and American critic, R. Dixon Smith, who go over the film's production in detail whilst offering analytical pointers. Also included is a short documentary by Luciano Berriatúa, Outtakes from the film, and a short made up of unused footage, titled Treibjagd in der Südsee.
Masters of Cinema know how to deliver a mean booklet and this 56-page collection of writings is, yet again, and forgive me if you've heard this one before, another first-class winner. It features several essays on the film and even extracts from diary entries made by Murnau. Sunrise in Bora Bora by Scott Eyman is the standout piece, but the entire booklet is a treasure trove of analysis and info.
The film is presented in the correct 1.19:1 aspect ratio and, as mentioned, with scenes previously censored now put back in their rightful place. The original title cards have also been restored. The tones and contrasts between shadow and light are beguiling, lending Tabu not only an exotic visual sheen but something, at times, that is dreamlike. Crosby bagged the 1931 Oscar for his photographic accomplishment.
Tabu is majestic and can now be enjoyed properly with this truly excellent restoration release and superb bonus material.
Martyn has awarded Murnau's Tabu: A Tale of the South Seas five Torches of Truth