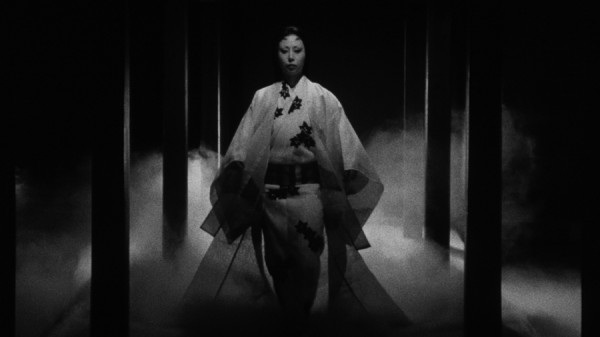 Kaneto Shindo's ghost story, Kuroneko, is an unusual and individual piece of cinema. In the opening scene, a young woman (Kiwako Taichi) and her mother-in-law (Nobuko Otowa) are raped and murdered by a band of samurai. They make a deal with 'the evil gods', allowing them to return as vengeful spirits to kill samurai warriors. Gintoki (Nakamura Kichiemon) is sent to destroy them but the malicious otherworldly killers, it turns out, are his mother and his wife.
For a horror film, Kuroneko is not so much scary as it is simply eerie. In the early part of the film, especially as the first samurai is led to his doom, Shindo creates a chillingly atmosphere. There is always a question mark, too, about just how real the surroundings are as Shindo presents the sense that the ghosts are pulling people out of the everyday world and into a kind of antechamber under their control.
The first half of Kuroneko dwells mostly within the horror genre, but the second shifts and gains depth as Gintoki has to take on the idea that not only are his wife and mother dead, but he must destroy them. There is a moral dimension and an effective romantic one as Gintoki and his wife spend seven nights together. This second half is where Kiwako Taichi's performance really comes into its own. Noboku Otowa, however, is the standout. A strange and otherworldly presence on the sidelines in the first half, she giving us deeply felt levels as both mother and vengeful spirit in the second.
Shindo's direction is outstanding throughout. The pace is slow, but never dull, and Kuroneko is packed with beautiful shots, occasionally interrupted by a brief shock, such as the early reveal of the ghosts' true nature. Happily, the visuals are shown off to their best advantage by another beautiful HD transfer. Contrast and black levels are excellent and detail is customarily strong.
Extras
The only disappointment is that there are no disc extras, though a typically excellent booklet, including an essay on the film and a 1972 interview with Shindo goes some way to contextualising the film and Kuroneko is more than recommendable on its own.
Sam has awarded Kuroneko four Torches of Truth