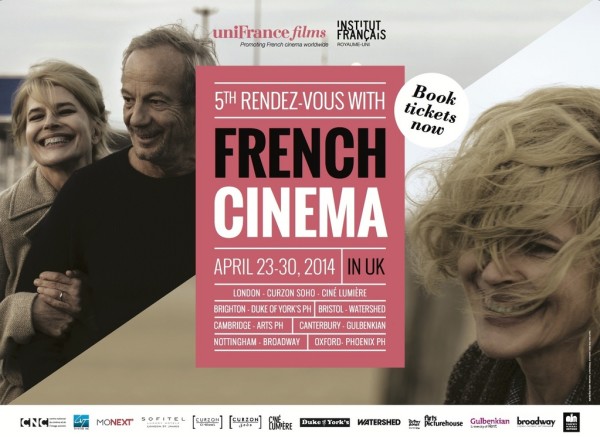 This year's Rendez-vous with French Cinema pays tribute to a legend of French Cinema, Alain Resnais, bringing a restored version of his 1959 New Wave classic Hiroshima mon amour (starring Emmanuelle Riva) and many other delights to a whole bunch of lovely cinemas in the UK between 23 and 30 April.
The tribute will also feature Resnais' last film before his death, Life of Riley, which is an adaptation of playwright Alan Ayckbourn's work.
Those two films are definitely on our list of must-sees but we've also noticed three other titles that we think you might want to cast an eye over;
The Young and Prodigious T.S. Spivet – in English – 105 minutes                                         (L'Extravagant voyage du jeune et prodigieux T.S. Spivet)
Amelie director Jeanne-Pierre Jeunet's adaptation of Reif Larson's popular novel, starring Helena Bonham Carter, follows the exploits of precocious ten year old Tecumseh Sparrow Spivet who seems to have a lot in common with a certain pernickety character from TV's The Big Bang Theory. He sets off for Washington alone to go and compare his research with that of the top scientists but uncovers some unresolvable life mysteries. Wonder what the neighbour kids will think of that.
9 Month Stretch – French with subtitles – 82 minutes                                                                (9 mois ferme)
Pregnancy black comedy. A judge suddenly finds that she is in the family way but the baby's daddy happens to be banged up for a stretch in prison and she has no memory of having met him. Awkward.
Quai D'Orsay – French with subtitles – 113 minutes
Is this French The Thick of It? Quai D'Orsay is another adaptation, this time of a hit graphic novel on French Foreign Minister (later prime minister) Dominique de Villepin. Starring Thierry Lhermitte as the Minister of Foreign Affairs and Raphael Personnaz as his new speechwriter.
Hiroshima mon amour – French with subtitles – b&w – 92 minutes
Resnais' multi-award winning 1959 film set in postwar Hiroshima, where a Japanese architect and a French actress embark upon an intense affair in intense circumstances.
Life of Riley – French with subtitles – 108 minutes                                                                         (Aimer, boire et chanter)
UK premiere on 26 April at Cine Lumiere. The absent George Riley is dying and we don't know much about him but we do know how he affects the lives of quite a few other people. Suburban drama on a stage.
Rendez-vous with French Cinema 2014 takes place between 23 and 30 April, visiting London, Brighton, Bristol, Cambridge, Canterbury, Nottingham and Oxford. Details of where and when.