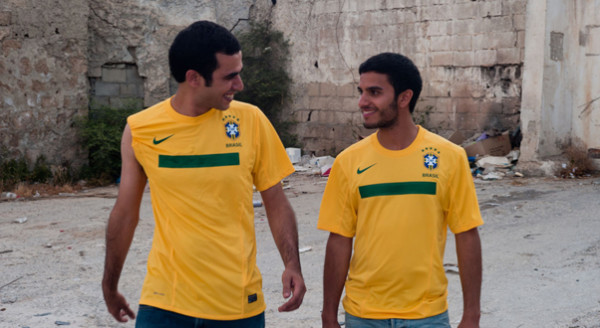 Foreign language films often have new titles or non-literal translations for English language distribution but in this case it seems a more pressing issue than usual. Le Fils de L'Autres translates more accurately as The Other's Son, a subtle difference, but a title that much better reflects what this film is about.
A routine blood test before he is drafted for military service shows that 17 year old Israeli Joseph has a blood type that can't have come from his parents.  An investigation shows that when he was born – during a bombing – he was accidentally switched with the baby born in the room next door, to a Palestinian mother.  The film then follows the consequences of this discovery for the families of both Joseph and the boy he was switched with, Yacine.
The title translation is important to me in this case because the literal translation is the one that says outright that, by setting this story across the Israeli/Palestinian divide, this film is about what it is like to suddenly become an 'other' in a community in which otherness can be seen, often justifiably, as dangerous.  The film generally explores these issues in a way that gives them due import without boiling over into melodrama. The film also manages to avoid – again for the most part – trite cries of 'why can't we all just get along', while also managing to use the situation these characters find themselves in to comment on how destructive this conflict is.
The performances are well judged and realistic all round, with Emmanuelle Devos and Areen Omari making the most of strong, emotional, roles as the mothers and Jules Sitruk and Medhi Dehbi impressing as their switched sons.
The Other Son is an intelligent and emotional film that explores some thorny issues but has faith that some people can find a way through them.  It's a different take on a conflict much explored in media and well worth seeing.
The Other Son is showing 19 November at Cine Lumiere, 21 November at Glasgow Film Theatre and 28 November at Edinburgh Dominion.
Sam has awarded The Other Son four Torches of Truth