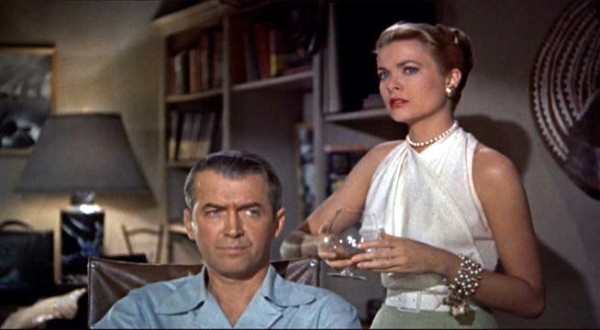 If ever a name was suited to describe a person it was that of Grace Kelly; the actress had a distinctive poise and elegance that charmed cinema-goers, sent a certain director into 'Frenzy' and captured the heart of a Prince.
Kelly first came to the attention of Hollywood as the dutiful Quaker wife to Gary Cooper's valiant sheriff in High Noon (1952) she was a natural beauty with quiet dignity. An Academy award nomination was soon to follow for her role alongside Clark Gable in Mogambo (1953) proving her acting credentials as well as her screen luminosity. However, it was her work with Alfred Hitchcock that cemented her screen icon status and ignited the director's obsession with the beautiful blonde. Hitchcock reinvented how Kelly was seen, gone was the meek, moral lady, in her place he presented the glacial temptress in Dial M for Murder (1954), who must be punished for her beauty.
Her standout performance came in Rear Window as Lisa Fremont (1954), in which she represented for Hitchcock, and in turn the audience, the ultimate elusive blonde. The first image of Kelly in the film is a close up of her face, it is softly focused, radiant and ethereal, as the injured James Stewart character L.B Jeffries merely watches Lisa, he represents Hitchcock's immobile feelings towards the actress. For a time he thought he would not need another actress however when Kelly fell for Prince Rainier of Monaco, she became irrevocably unattainable.
In 1956 Kelly married and became Princess of Monaco, retiring from acting at the age of 26, having somewhat of a 'James Dean effect' on Hollywood. Making only eleven films in a five year career, her star continued to burn bright, long after her transition into royalty folklore. Her cachet as a screen icon was tragically reinforced when she suffered a fatal car crash in 1982, aged 52; she'd had a minor stroke whilst driving which led to the accident. It was suggested that the crash had happened near one of the locations for the 1955 film To Catch a Thief, which Kelly had starred in with Cary Grant, whether this is fact or not does not dampen Hollywood's reputation for adding a bittersweet note to a news story.
Grace Kelly is a movie name byword for elegance and sophistication; she represented the glamour of Hollywood and the young girl's fantasy of one day becoming a Princess. Her style continues to influence fashion, from the Hermes Kelly bag named in her honour, to the modern day royals who look to Kelly for Wedding Day inspiration. She is often referenced in pop songs through the years, remaining in the subconscious, and she is still ranked by the American Film Institute in the top 20 female stars of American Cinema, further cementing her status among the Hollywood greats.
As James Stewart said in his eulogy at Kelly's funeral on September 18, 1982, 'Grace brought into my life, as she brought into yours, a soft warm light every time I saw her. God bless you Princess Grace'.