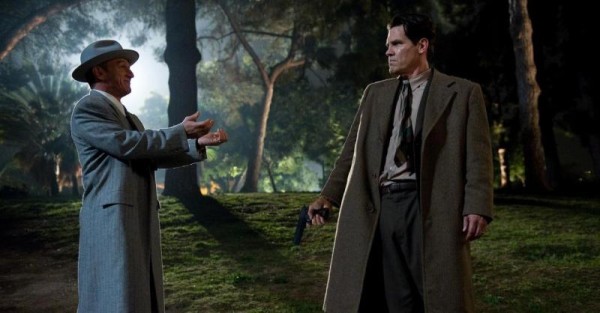 Despite the glamour of Hollywood and the endless sunshine, Los Angeles in the late 1940s was not a nice place to be. The city was plagued by ruthless gangster Mickey Cohen (Sean Penn), a man responsible for the avalanche of heroin hitting the streets. Most of the L.A.P.D and court administrators were on Mickey's payroll, so it was left to Chief Bill Parker (Nick Nolte) to secretly form a "Gangster Squad" and set about bringing the crook down. Team leader Sgt. John O'Mara (played by Josh Brolin) recruited a small, highly select group of underachieving police officers to carry out Parker's commands.
Gangster Squad boasts a great ensemble cast that includes Ryan Gosling, Emma Stone, Giovanni Ribisi, Michael Peña, Anthony Mackie and Robert Patrick. It can often be a case of everybody struggling for screen time in these sorts star-studded movies, but director Ruben Fleischer makes it work.
Without a doubt Gangster Squad's standout performances belong to the two leads. Brolin and Penn both inhabit their characters with an overwhelming desire to take the other one down. Brolin's O'Mara looks constantly harangued and beat-down as the cop charged with destroying the biggest criminal on the West Coast, whilst also looking after his pregnant wife. Sean Penn brings a gargantuan presence and snarling menace to his portrayal of mob boss Mickey Cohen. His face and body language looms large in each scene that leaves you in no doubt how vile this man is.
The only subplot that doesn't quite work is the relationship between Gosling's and Stone's Sgt. Jerry Wooters and Grace Faraday. Whilst in real life it was essential to the downfall of Cohen, unfortunately this felt shoe-horned into the film, just to add a bit of romance. It's a shame as Gosling and Stone have such great chemistry together, but the subplot never flickers to life.
Gangster Squad doesn't rely on narrative twists and turns, instead aiming for a clear-eyed vision of good guys versus bad guys. The film is an unrelenting, action-packed ride that is one of the best police thrillers in recent times.
Mark has awarded Gangster Squad four Torches of Truth