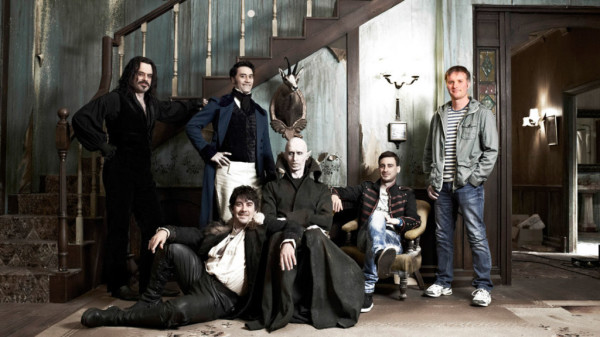 Mockumentaries are fascinating film experiments yet prove more triumphant as either horrors or comedies. From the directorial work of Christopher Guest, This Is Spinal Tap (1984), Zelig (1983) to Borat (2006) and found-footage frighteners including Cannibal Holocaust (1980), fusing faux realism with these genres is known to toy more effectively with our interpretation of them. With that in mind, New Zealand-born writers/directors/comedians Jermaine Clement and Taika Waititi present What We Do In The Shadows as a work produced by The New Zealand Documentary Board.
The film follows a "family" of vampires in dilapidated lodgings during the run up to supernatural event The Unholy Masquerade. The nocturnal nincompoops quibble over household chores, frolic about popular Wellington night-spots, fraternise with a pack of local werewolves [led by comedian Rhys Darby] and feed on unsuspecting dinner guests brought to them by a human servant (Jackie van Beek) who hopes to one day be granted eternal life.
The narrative is slight but compensated by adorable characters graced with complex nuances and chequered pasts, magnificently portrayed by the cast. Taika Waititi's placid vampire Viago is a sensitive romantic performed with prissy finesse while Jonathan Brugh's Deacon acts as ravaged layabout and polar opposite to the skeletal and toothy Peter, a Nosferatu-like cellar dweller who spends most of the film hissing and feasting on chickens. Meanwhile Jermaine Clement is an absolute joy as Casanova pervert Vladislav (the poker).
Vampire myth tidbits are spun into gags innovatively twisted to form well-woven set pieces. The gang donned in old-new romantic sartorial non-elegance while trying to enter a night club is amusing [they have to be invited in], along with novel vampire film features of a mid-air bat fight, the explanation of why vampires like virgins and the sight of what happens to one when it eats chips.
WWDITS is a gothic, face-achingly hilarious fly-on-the-wall comedy that is suitably claret soaked for gore-hounds. It finds unique strength in intrinsic details, is enriched with a fake vampire history and flows marvellously despite a lack of plot but is unfortunately rarely scary. The set piece, sitcom feel makes it far from cinematic yet the innovative humour, fantastic performances and set design are impossible to fault.
Daniel has awarded What We Do in the Shadows four Torches of Truth