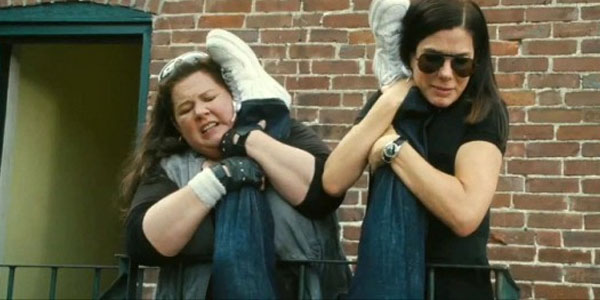 Sarah Ashburn (Sandy Bullock) is making everyone at the FBI look bad, even the sniffer dogs, but she ain't so good with the people skills so her boss sends her to try and get along with the Boston PD in finding a shadowy machete-friendly drug lord if she wants any chance of a promotion. There she teams up with Shannon Mulllins (Melissa McCarthy) and from then on it seems pretty formulaic for a cop buddy film. Except the renta-macho guys are missing, this time replaced with people who can act. A novel concept, I know.
Yes it is formulaic to a certain extent; one straight guy and one slightly unorthodox phonebook-throwing guy who get into a whole lot of life-threatening scrapes and break off in the middle of crime-fighting proceedings to do the getting wasted at a divey pub getting-to-know-you bit. But sadly they don't find the time to watch Bad Boys or Point Break.
The dialogue is not quite sharp enough in places but it's pretty good. This is writer Katie Dippold's, formerly of TV's excellent Parks and Recreation, first feature film writing expedition so we should expect her next efforts to be more on the money. Melissa McCarthy's character is a lot more imaginatively written than Sandy's but if there is a The Heat Part Deux then we should find some more satisfaction in that respect. Sandy and Melissa are indeed a complementary pairing.
There are some great comedic moments: the slo-mo perp pursuit, Ashburn's efforts to rush to Mullins' aid in a wheelchair, the aforementioned phonebook toss [I know it's in the adverts but it's still fricking funny] . And the Mullins family set-up is pretty entertaining too.
This film may be 'From The Director Of Bridesmaids' Paul Feig but that shouldn't mean that it will only appeal to the ladies. Much less in the way of stereotypes than your average cop buddy film, it's a clever all-rounder that's sorta Lethal Weapon but with more jokes and yes, Melissa McCarthy would be Martin Riggs.  A solid three torches.
Maryann has awarded The Heat three Torches of Truth