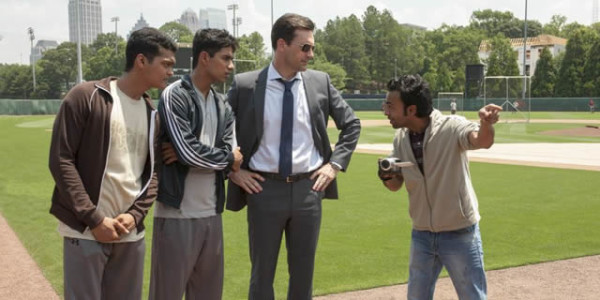 Smaller scale live action Disney flicks have been a bit scarce on our big screens of late. The dainty days of Freaky Friday (1976) and Escape To Witch Mountain (1975) or the films featuring Kurt Russell as some kind of jock-douche now seem like products of their time especially when compared with Maleficent (in terms of scale), the Marvel behemoths and Pixar masterpieces. Jon Hamm is a budding Sports agent (JB) facing financial hardships as his business struggles to find quality talent to represent. After hope of securing a big name client is dashed, JB travels to India on a quest to find young, talented cricket players and transform them into baseball stars.
With the exception of Saving Mr Banks (2013), Million Dollar Arm is the first live action Disney effort for a few years that isn't based on a franchise of some kind and while MDA doesn't boast many similarities to its bigger budget brothers, it has an air of the low-key 70s efforts about it.
Aside from the 70s live action efforts, Million Dollar Arm is reminiscent of the Touchstone comedies from the mid to late 80s as well as sharing traits with the later Disney sports romps like Cool Runnings (1993), The Mighty Ducks (1992) and Angels in the Outfield (1994). But what differentiates MDA is its dry humour, subtle but effective drama and restrained sentimentality.
Jon Hamm delivers a solid performance alongside a playful Suraj Sharma and Madhur Mittal as the young hopefuls. The characters are grounded and the drama laced with sardonic comedy but its main problems are the template plotting and underdog film clichés. The heroes stumble, lose faith and rise again as predicted, but director Craig Gillespie doesn't crowbar in any grating goofiness like the older Disney efforts. The wit is consistent and lacking great belly laughs but there is still big fun to be had.
While it might not be mighty and momentous and doesn't boast the punch the sky enthusiasm of Rocky (1976), Million Dollar Arm is a fun watch that's a lot better than Rocky 2 (1979) and the majority of Disney's earlier live action efforts.
Daniel has awarded Million Dollar Arm three Torches of Truth