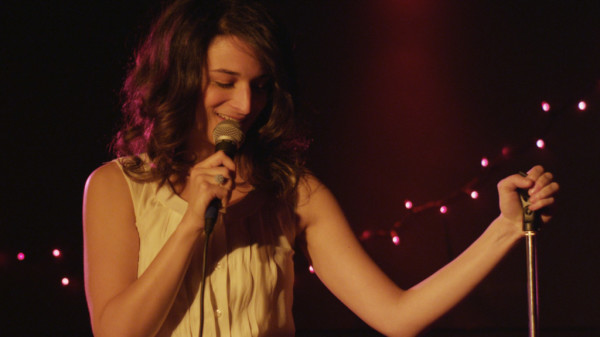 Comedian and worker in non-oppressive bookstore Donna Stern likes to tell gleeful jokes about her sex life and the shortcomings of her relationship, which soon ends. Cue an orgy of self loathing, anger, enough alcohol consumption to drop a rhino and irresponsible sex with a nice, polite man. It all gets a bit stickier when Donna learns that the bookshop is closing, she can't pay her rent and oops, she has one in the oven.
So far, so usual? Not really, because Donna knows that she doesn't want to have the baby. But she might want the man who impregnated her. Obvious Child succeeds in being refreshing in all categories; it's funny, it's non-conventional and the pregnant lady, true to life, doesn't get overcome by the need to carry the ill-conceived embryo to term.
Obvious Child was born (sorry) from a short which starred Jenny Slate, a comedy-providing lady known for the odd swear word. Having seen the reaction the short starring the lovely Jenny got, director and co-writer Gillian Robespierre set about finding the funding for a feature length film.
I went into watching this film almost buzzing with fear and anticipation. I desperately wanted it to be good. As you will all know, this is the point where you usually get your trusting heart ripped out and farted upon. But that didn't happen. There is no political campaign here, just a bit of a crusade to develop characterisations of women (and men) onscreen that we will all recognise in their situations of comedy, tragedy and whatever else that might happen. Stern, her friend Nellie (Gaby Hoffman) and her mother are women that we know; funny, rude and a bit stupid sometimes. Max (Jake Lacy) is a well developed male character acting as a good foil to Donna's straight talking awkwardness. The scenes between mother Stern (Polly Draper) and daughter Stern are particularly commendable. As are those scenes highlighting the process and expense that women must go through to obtain an abortion in the U.S.A.
Obvious Child grants a do-over to areas that the (mostly excellent) Juno (2007) fudged a little; Michael Cera is not in it, there is no happy ever after with twee guitar strumming and Donna Stern does not become part of the false statistics in Hollywoodland; a make-believe world where many more women decide to give their babies up for adoption than they do in real life. The truth is out there: rom-coms don't have to be sappy and sometimes women get abortions.
Maryann has awarded Obvious Child four Torches of Truth