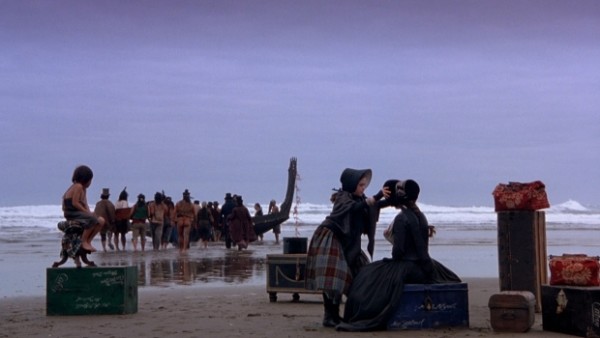 Ada (Holly Hunter), the protagonist of Jane Campion's 1993 Palme D'or winner, The Piano, is a triple threat to the 1800s society she's born into. Not only is she a single mother, she's also a mute, but doesn't have the 'decency' to be ashamed of it. Ada's "voice" is her piano; a tool that allows her to express herself to the world, and she's staunchly reluctant to communicate with others in the way they want her to.
As such, she is shipped off to marry New Zealand pioneer Alisdair (Sam Neill). Alisdair's puritanical nature sees his new wife's prize possession as an entirely infrugal item and leaves it dumped on the beach where it landed. His thuggish, ex-pat Maori manservant (Harvey Keitel) retrieves it and offers to let Ada play it, on the condition that she allows him to sexually molest her while she does.
So far, so plight of the underdog, but the film goes off the rails somewhat as the abuse of Ada begins to take on a romantic tone and a relationship develops at the expense of Ada's marriage and her daughter (Anna Paquin). The message seems to be that there are men willing to give women or the disabled the opportunity to speak, but only if they sell their bodies.
The film builds to a tragic and violent climax before ending with a coda that isn't so much ambiguous as inexplicable. Still, the performances by the leads are nothing short of staggering – particularly Hunter and Paquin – and rightly drew Academy attention on release. Clearly a masterpiece, but a flawed one.
Extras
Despite the notoriety of the film, the Blu-ray release is light on extras. There's a very long interview with writer/director Campion about her process, with a quick chat with the producer Jan Chapman at the end. The interview has very little to do with the meat of the film and while Campion is friendly and open, this is more of an insight into her personality than her work.
Elsewhere, there's a short documentary about the making of the film that's more focused, but no more insightful. Lastly, Campion and Chapman offer the obligatory commentary. Here they pretty much repeat what was said in their respective interviews with little reference to what's happening on screen and, again, it's more of an introduction to the people involved rather than a guide to the issues and intricacies of the plot.
Neil has awarded The Piano (1993) on Blu-ray three Torches of Truth