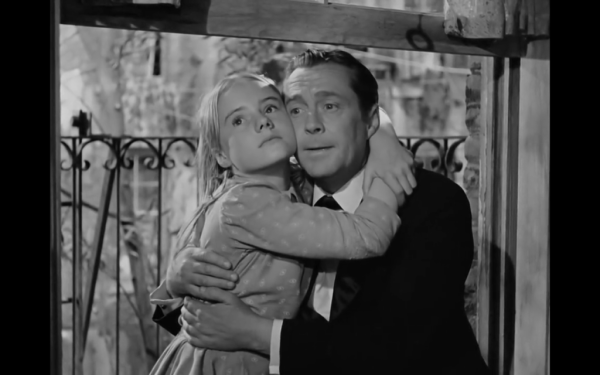 Elia Kazan's directorial debut A Tree Grows in Brooklyn (1945) tells the story of an Irish-Russian family living in the tenements of turn-of-the-century New York. Based on the bestselling novel by Betty Smith, the Oscar-winning family drama surrounds a young girl, Francie (Peggy Ann Garner), and her little brother, who flit around the city streets trying to help their put-upon mother, Katie (Dorothy McGuire). Kazan, co-founder of the Actor's Studio and consummate actor's director, draws unsurprisingly poignant performances from Garner and James Dunn. Dunn, as Francie's father, is an ineffable dreamer and helpless lush, forever promising the world to his impoverished family. His fanciful talk and inability to pay the bills earns him the adulation of his young daughter, but the frustration of his pragmatic wife. A genuinely tragic figure, his kindness cannot rescue him from the depths of alcoholism.
Although set in Brooklyn 1912, Kazan's unfaltering attention to behavioral tics ring true. There's a moment where a pernickety visitor pours a large ration of the family's milk into his coffee, and the children silently lean over to watch in dismay. Or the way a brassy Joan Blondell, the children's Aunt Sissy, draws the eyes of every man she passes in the street, as if their heads were all being pulled by an invisible cord. This nuance is pure Kazan; note mother Katie's steely pride, the way her spine straightens like a rod when a helpful policeman brings her drunken husband home. She politely ensures him the matter is none of his business; and even heavily pregnant, she scrubs the stairwells of her tenement block on her hands and knees – these people may be poor, but they are proud and thoroughly decent.
A Tree Grows in Brooklyn, while not quite hinting at the dizzying heights the legendary director would later climb, is a deeply compassionate and honest film, made up of both sentiment and social realism. Kazan – the child of Greek immigrants himself – charts the ambitions of bettering oneself, and particularly improving the lot of one's children. The heartbreaking scenes between father and daughter are written and performed in a way that earns one's empathy rather than demanding it; the sweetly hopeful expression on 13-year-old Francie's face is an image that will linger. This tearjerking ode to the promise of rising above one's circumstances is a fine example of the psychologically complex and emotionally rich work Kazan would continue to master.
Extras: The disc from Simply Media is scant on extras, but the company specialises in distributing good, clean transfers of difficult-to-find classical Hollywood films, and for that one is always thankful.
Christina has awarded A Tree Grows in Brooklyn (1945) on DVD four Torches of Truth