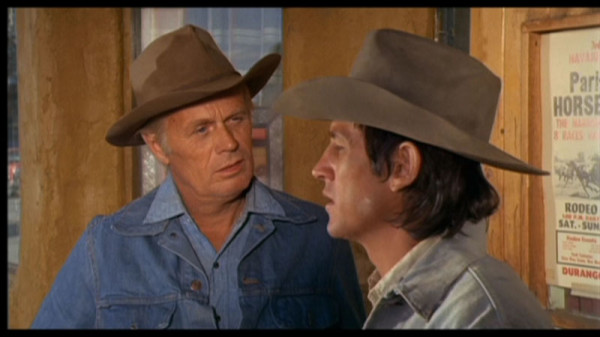 In the dusty mountains of Colorado, Tom Black Bull (Frederic Forrest) a teenage Ute Indian, is adopted by a craggy old cowboy named Red Dillon (Richard Widmark), who recognises the young boy's bucking potential and plans to make a superstar out of him on the rodeo circuit. When the Legends Die (1972) follows the pair on their road-trip in search of fame and fortune: during which time Red fights bar-hicks, throws contests, demeans women and then descends into alcoholism, not unsurprisingly creating a rift in the friendship.
Based on the middle section of a greater novel by Hal Borland (originally set in the late 1800s), WTLD is a strangely charming excursion that, despite its slight narrative, feels epic due to the vast, mountainous settings. The golden landscapes simmering under the rich sunsets add a calming quality to a tale that never rattles with high drama but makes for a pleasant watch. Adapted for the big screen by Robert Dozier (who wrote some of the original 1960s Batman series) WTLD was produced and (unlike the novel) set in the 1970s and is an intriguing juxtaposition of the past, the tribal elements of old west, with the small town hillbilly culture of "modern" times.
Director Stuart Millar previously produced Little Big Man (1970) and perfectly captures the Colorado life before going on to direct the True Grit sequel Rooster Cogburn and the Lady (1975).
WTLD often feels like it could have done with some emotional complexities to enrich the story. While the relationship between Black Bull and Red is endearing it often lacks depth; only occasionally revealing how the main characters feel about each other on a surrogate father and son level. Forrest plays Black Bull as shy and an often emotionless near mute while Red is mostly entertaining at his whiskey slugging weakest; playing the simple minded hedonist with a vulgar joviality, while forcing Black Bull to grow up and take the reigns in their relationship.
WTLD is very likeable with seemingly shallow but appealing characters, some tranquil cinematography and a simple story. It sorely lacks rattling tragedy and substance, yet the dreamy desert set serenity make it an easy watch.
No Extras.
Daniel has awarded When the Legends Die (1972) on DVD three Torches of Truth