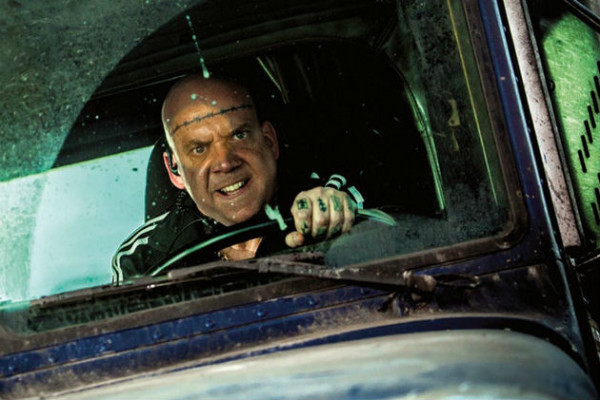 Wily and lovable, character actor Paul Giamatti is one of those rare supporting performers who works equally well in the background of a big budget film as he does leading a smaller independent. After appearing in this year's Academy Award winning best film 12 Years A Slave, Giamatti returns to cinemas this week as super-villain Rhino in The Amazing Spiderman 2. His unique ability to portray a plethora of different roles make him a truly memorable screen presence. With a throng of characteristics he sifts into a variety of parts, he can equally charm and disturb while injecting performances with his own distinctive spark.
From a career starting out in small theatre productions at Yale, Giamatti worked his way up to Broadway appearing in plays such as Arcadia and The Iceman Cometh during the 90s. A blink and you'll miss it role in Singles (1992) led to supporting parts in Mighty Aphrodite (1995), and as lamentable slime-ball "Pig Vomit" in Howard Stern's Private Parts (1997). This paved the way to earning him a small role in Saving Private Ryan (1998) and opposite Samuel Jackson and Kevin Spacey in The Negotiator (1998).
Giamatti then played a Scientist in Dr Doolittle (1998) and a damn dirty ape Planet of the Apes (2001) but hit the big time with his portrayal as a frustrated novelist  in Sideways (2004) which gained him an Academy Award nomination followed by a performance as self-proclaimed loser and comic book icon Harvey Pekar in American Splendor (2003). These two roles proved Giamatti could carry a picture on his own, with a personality that transcended the trappings of the average supporting character.
After taking the lead in M. Night Shyamalan's Lady In The Water (2006) Giamatti starred opposite Vince Vaughn in Fred Claus (2009) as the big man, Santa himself, but always shone brighter in smaller, critical hits like Cold Souls (2009) in which he played a fictional version of himself who arranged to have his soul frozen. Giamatti then went on to reveal a darker side as peeved off assassin Benno Levin in David Cronenberg's Cosmopolis (2012).
He recently returned to his theatrical roots and played Hamlet at Yale University but despite a small part in Downton Abbey, will never stray far from the big screen. After he gets the hype over his little super-villain appearance in The Amazing Spider-Man 2 out of the way, he also has a role in an upcoming big screen version of Madame Bovary (as Monsieur Homais) not to mention several other productions in the pipeline.
Despite comparing himself to a turtle, Giamatti has worked with a roster of virtuoso directors such as Spielberg, Alexander Payne, Woody Allen, Tim Burton and John Woo and has made a great contribution to cinema over the years, bringing a welcome, diverse quality to the films that he's appeared in. But has yet to fulfil his ambition of starring in a crime caper with Robert Duvall and John Hurt. Maybe next year.