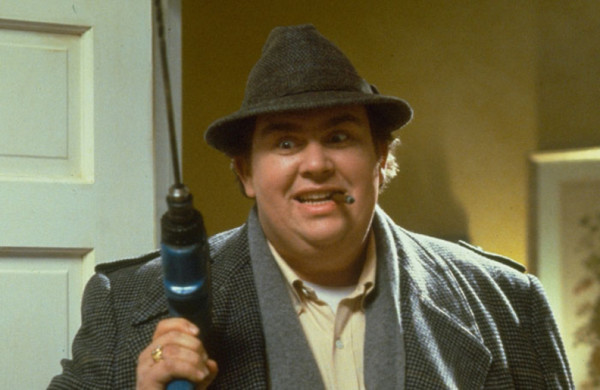 John Franklin Candy died twenty years ago today (4th March). Throughout the 1980s and into the early 1990s, the Canadian funnyman was a staple of mainstream Hollywood movies and a popular screen presence. Whether it was as Chewbacca spoof Barf, in Spaceballs (1987), the pain in Steve Martin's harried exec's ass in Planes, Trains and Automobiles (1987) or the titular Uncle Buck (1989) – Candy delivered the laughs.
The actor's foray into the movies followed near enough the same route as other comedians of his generation – starting on television and then slowly transferring over to the big screen. He began the road to fame in 1972 by joining Chicago's Second City improvisational troupe. He was a founding member, in 1974, of the Toronto chapter of Second City, which then went on to create SCTV (The Canadian equivalent of Saturday Night Live). This is where Candy really cut his comedic chops. He became the show's first breakout star, too, thanks to characters such as Stan Shmenge and Johnny LaRue.
One of his first studio gigs was Steven Spielberg's WW2 comedy 1941 (1979). However, the film wasn't a success and Candy was somewhat overshadowed by more established actors such as Dan Ackroyd and John Belushi. The first noticeable role was in John Landis' The Blues Brothers (1980) as Jake Ellwood's correctional officer, Burton Mercer, and he followed that up the next year as Dewey "Ox" Oxberger in Ivan Reitman's Stripes (1981).
Up next was Splash (1984), a rom-com about a mermaid (played by Daryl Hannah) living amongst us and falling in love with Tom Hanks' Allen. Candy played Allen's older brother, Freddie. Splash was a smash-hit and provided the breakthrough Candy had been waiting for and over the next six years, he rose in the world of film and appeared in such comedies as Brewster's Millions; Summer Rental (both 1985); Little Shop Of Horrors (1986); Spaceballs; Planes, Trains & Automobiles (1987); The Great Outdoors (1988); Who's Harry Crumb?; Uncle Buck (1989); Home Alone (1990); Only The Lonely (1991) and Cool Runnings (1993). This parade of comedic pictures cemented Candy's reputation.
In 1991, he made a huge leap into more serious fare by bagging a cameo appearance in Oliver Stone's biopic JFK . Candy's portrayal of New Orleans lawyer, Guy Andrews, and was a tantalising glimpse of his true range as a performer.
Candy was a notoriously private man and he very rarely gave interviews outside of traditional press junket duties. His Achilles' heel was food and it would destroy his self-confidence. For years he was on a strict dietary regime and had a fitness trainer work with him, but sadly his addiction was too great. He was a heavy smoker, too, and had started to suffer from panic attacks. In 1992 he was scheduled to serve as host of the Canadian Genie Awards, but when he saw the advert they were running with – "We got the biggest star we could find" – he pulled out.
Candy went off to Durango, Mexico to shoot scenes for his latest comedy, a western titled Wagons East! (1994). On the 3rd March he cooked a late pasta dinner for some of his work colleagues and called his comedic co-stars, Robert Picardo and Richard Lewis, to thank them for being great to work with on the film. He then went to bed. Candy suffered a fatal heart attack in the early hours of Friday 4th March. He was 43 years old.