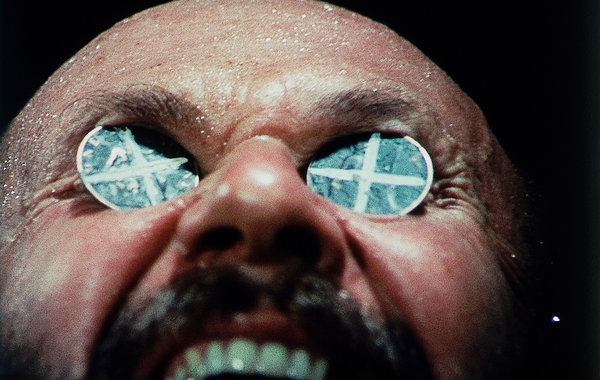 Depicting Australian machismo, mateship and the rough-and-tumble etiquette of an outback mining town as an almost Kafkaesque fable, Wake in Fright deserves the accolade 'masterpiece' – an over-used term for sure, but without a doubt totally justified, here.
Ted Kotcheff's film, released in 1971, was thought lost for several decades before resurfacing (thankfully) and undergoing a deserved restoration by the National Film and Sound Archive and Deluxe Australia. It has been chosen by Eureka Entertainment to join their exceptional Masters of Cinema series.
John Grant (Gary Bond) is a school teacher trapped temporarily in an outback hellhole called Bundayabba. Thanks to the somewhat aggressive hospitality of the locals and influence of the mysterious 'Doc' Tydon (Donald Pleasence), Grant turns from mild-mannered chap into booze-sozzled lout on the road to ruin. His sorry journey and slow degradation makes for one of the finest pictures ever made about social anxiety. It's as if the Yabba residents' brains have all been frazzled by the unrelenting sun; their eccentric behaviour and pastimes edge into the realm of the horror movie.
Extras
Wake in Fright began a digital restoration process in 2006 after useable materials were finally discovered. After initial test work was done, it was decided to forgo the photo-chemical option and head down the digital route. In the accompanying booklet, there are photographic examples of what a photo-chemical restoration would look like compared to the digital. The winner is clearly the digital option.
The Blu-ray audio and visual quality is superb. The red rock outback, piercing light, sweaty bodies, arid vistas that stretch on and on (the opening 360 degrees panning shot is awe-inspiring in its depiction of nothingness), the town, known as the Yabba, all looks simultaneously marvellous and sickening – and without losing that essential celluloid appearance.
This really is one of the very best Blu-ray releases distributed by Eureka Entertainment since The Passion of Joan of Arc and the film more than deserves its place in their Masters of Cinema label. A half-hour interview with director Ted Kotcheff; a marvellous commentary track, again with Kotcheff, accompanied by Anthony Buckley, the film's editor; two short featurettes; a Chips Rafferty obituary; a TV spot; trailer, and a 48-page booklet packed with essays including Kotcheff's explanation of the controversial kangaroo hunting sequence and a fascinating piece on the film's complex restoration process roundup an excellent batch of bonus materials for what is a monumental Australian picture.
<Martyn has awarded Wake In Fright five Torches of Truth