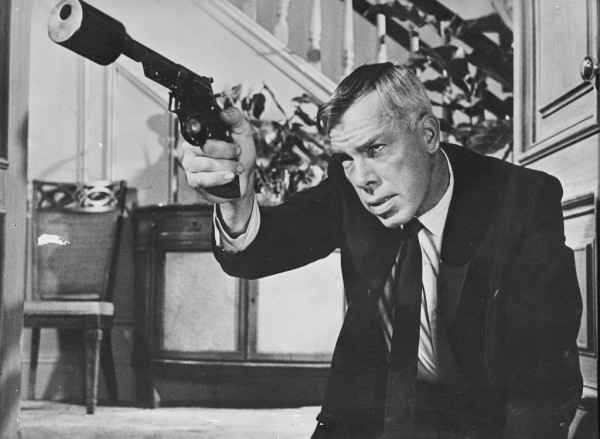 Lee Marvin and his lackey, clad in sharp suits and dark sunglasses, stride into a home for the blind, where they proceed to take out a hit to which they've been mysteriously assigned. Before the film is through, a long line of people have been slugged in the face, dangled out a window, or nearly boiled to death in a sauna.
The 1964 retelling of Ernest Hemingway's The Killers is precisely the sort of noir remake that one imagines Don Siegel could dream up. The film takes its cues from the narrative framework of the 1946 heist classic starring Burt Lancaster and Ava Gardner, telling the story predominately through flashbacks.
Siegel gives his Killers a sleek 1960s makeover, maintaining the genre's cockeyed Dutch tilts and ramping up the physical jeopardy. He elaborates on the role of the two hitmen, giving them a self-serving cruelty that fits well into the encompassing malevolence of their world. Siegel's gaze is preoccupied with the mechanics of cars and the roads they drive on; there is a real fetishism for driving, particularly racing, as a properly masculine pursuit. (Following, of course, Hemingway's dictum that motor racing was one of the only true sports. The rest were 'merely games'.)
The slippery dame here is Angie Dickinson's Sheila, fashionably of the moment, but never purveying the kind of slinky black-widow venom that Ava Gardner achieved in the original. She is the catalyst of many double and triple crosses, and interestingly, her amoral positioning allows her to be slapped and punched around without due recourse. The violent modernity uncomfortably highlights the problematic role of women in film noir, sometimes to a teeth-gritting extent.
Ronald Reagan plays a shadowy mobster, with his default setting to 'sneer'. He had never played a villain in his career, and is pretty half-hearted about it; it was his last role before his California gubnatorial campaign would end his acting days forever. One can't help but to be taken out of the film somewhat when John Cassavetes knocks the future President in the face; this very strangeness is intrinsic to its sheer entertainment value, however.
Aided by Lee Marvin's frighteningly cold presence, The Killers combines heaps of '60s style and an unrepentantly nihilistic attitude to excellent effect. It makes for a pulpy, vaguely right-wing, but deeply satisfying take on the slick crime tale.
Extras
A 1984 French archival interview with director Don Siegel is funny and frank. The man is surprisingly soft-spoken and professes his wish that he had made more 'love stories and comedies'. In another absorbing featurette, Ronald Reagan biographer Marc Eliot discusses Reagan's movie career and how it bled into his presidency. Other features include rare behind-the-scenes photos and an interview with Lee Marvin biographer, Dwayne Epstein, and a booklet with new writings on the film and contemporary reviews.
Christina has awarded The Killers four Torches of Truth