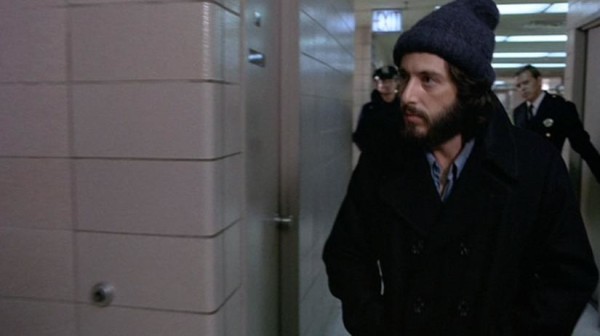 Sidney Lumet was a director who successfully navigated the vast tide of change between Hollywood old and new, with stone-cold classics on either side of the generation gap. In the 1970s, he directed several of the most memorable films of the Hollywood New Wave, including Serpico (1973). It tells the true story of Frank Serpico (Al Pacino), a steely-minded, eccentric cop who sought to expose NYPD corruption at great personal risk.
Serpico's refusal to take dirty money makes him suspicious to his peers and when he looks to testify, he discovers the extent of the collusion. As an undercover agent, he witnesses the NYPD's dirtiest depths, confronting the inherent danger of ending up "face down in the East River." Pacino, fresh from the set of The Godfather (1970), delivers a mercurial, restless performance.
Lumet always shows great thematic interest in lone figures of masculine liberalism; deeply moral nonconformists in the vein of Henry Fonda in 12 Angry Men (1957). For all his shaggy-haired bohemianism, Serpico is an unassuming bastion of old-style masculine honour in many ways, with an unwavering devotion to law & order. Although a Grand Jury is eventually opened, success is hard-won and the film concludes on a downbeat note. The closing shot leaves the cop and his dog in tight medium close-up on the curb and the camera zooms out to reveal his true location: waiting for passage abroad.
The modestly-budgeted film became a commercial success and Serpico became widely and rightly recognised as a modern classic. Justice is flimsy and Serpico is not left unscathed by his choices; he represents a dogged kind of heroism for a cynical decade. The righteous but self-destructive cop, played with tenacity and charm by Pacino, was a hero for his times, and crucially, one that the audience could believe in.
Extras
The feature-length presentation can be viewed in Surround Sound or Original Mono. The disc contains several short featurettes, including Inside Serpico, where Sidney Lumet discusses his methods. In addition, there is Serpico: From Real to Reel, featuring producer Martin Bregman, and Favorite Moments, where the best scenes of the film are discussed in detail. The original theatrical trailer is also included along with a 43-page booklet featuring two interviews and a short essay.
The Blu-ray contains a 1080p restoration of startling clarity. A noticeably lifted transfer, it brightens the New York streets without cleaning up the texture of grimy realism from the print. The Masters of Cinema Serpico disc is one to own.
Christina has awarded Serpico Five Torches of Truth