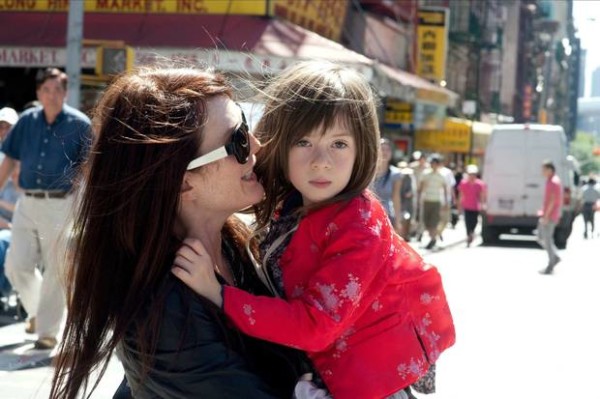 If you were to rate this film Top Trumps-style, it'd probably be fairly heavy hitting; a Henry James adaptation featuring Julianne Moore, Steve Coogan and Alexander Skarsgard doesn't sound like a bad thing to have in your pack. And yet…
Following the spiteful divorce between rock star Susanna (Moore) and dodgy businessman and ladies man Beale (Coogan), the couple's biggest pawn is their young daughter, Maisie – played by Onata Aprile, who provides what is easily the best performance. With each parent hell-bent on keeping the child, they are resolved to share her in six-week chunks, painfully uprooting her each time.
It is soon apparent, however, that neither parent has the capacity to look after Maisie properly due to frankly absurd levels of selfishness – they are abhorrent to the point of ridiculousness. There is is no feasible way to see how Susanna and Beale could ever have been a couple in the first place and they soon find it within their capability to move on into new relationships; Beale marries babysitter Margo, and Susanna does likewise with sensitive bartender Lincoln. Both new partners are nice – insipid, in fact. And Maisie, of course, likes them a whole lot more than her parents.
It's a story that would be ripe for sensitive observations about life and modern family dynamics, but unfortunately there are a truckload of cliches instead, making the characters so unrelatable that you're not too bothered about what happens to them. One of the interesting things in James's novel is how these 'modern' problems of broken families have in fact been present for much longer – the novel was first published in 1897 – but as the film updates the bile for modern times, that particular factor of interest is absent.
There are points where you effectively get the sense of how children can become so embroiled in a divorce and are powerless to escape or fully understand what is going on – and that's down to a suitably wide-eyed, innocent performance from Aprile. But in the scheme of the film as a whole, it's just not enough.
Extras: No extras on the supplied disc.
Danielle has awarded What Maisie Knew on DVD one Torch of Truth