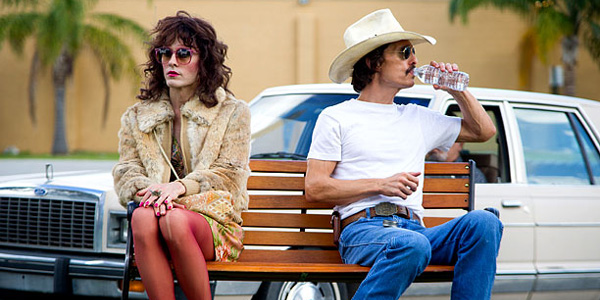 In a year where the Academy appears to be embracing diverse subject matters, Dallas Buyers Club (nominated for Best Picture) is an enthralling tale of a straight man's struggle with AIDS in the 80s; a time when the disease was primarily associated with homosexuality and so didn't get high priority on the agendas of the politicians or healthcare institutions. It's a world away from Philadelphia (1993), but where Hanks' buttoned down business man's struggle was moving and sombre, DBC's account of a small town bigot's battle is an edgy, surprisingly humorous tale with scathing satire and vibrant, dusty visuals.
Matthew McConaughey is remarkable as the skeletal Ron Woodroof, channelling anger and eventually acceptance in a twisted, multi-layered performance. His fascinating, but often unlikeable character, fired by hatred of himself and the world, resorts to alcohol, drugs and prostitutes (with a debauched hunger similar to Jordan Belfort's from The Wolf Of Wall Street) yet finds meaning in life when confronted with death. Following his diagnosis, Woodroof cleans up his act and forms a legal (via loopholes) club that allows sufferers access to drugs not cleared by the FDA. Jared Leto is equally brilliant as Woodroof's sassy, cross-dressing business partner Rayon but Jennifer Garner ambles indifferently as Doctor, Eve.
Aside from the mostly brilliant performances, DBC's other strength is the captivating true story that compliments the character study. The account of the club's operation is compelling, with Woodroof's adopting various guises to smuggle drugs from Mexico. Sometimes the structure is too rigorously sectored and his transition from waif-like junkie to businessman on the mend feels abrupt for such a complex character, but the narrative switch is welcome and diverse.
Dallas Buyers Club is a brave, but not preachy, account with astounding, Oscar worthy performances from McConaughey and Leto. Refreshingly light on sentimentality, director Jean-Marc Vallée's tale manages to successfully shock and stir with a perfect balance of high drama and killer dialogue. Perspective and context are key in presenting a story centring around a man's struggle with the killer virus and it would be great if the Academy were to recognise the off kilter, provocative comedy woven into the narrative, but with its whiff of a small scale indie drama, DBC may struggle against the bigger pictures.
Daniel has awarded Dallas Buyers Club four Torches of Truth