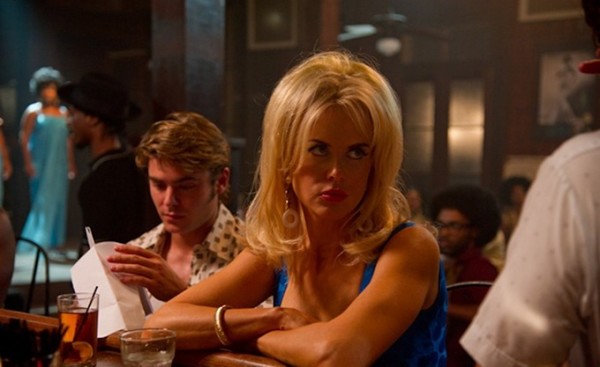 Lee Daniels's follow-up to the mightily impressive Precious is a sweaty and sordid slice of noir as unpredictable as it is bonkers. This might make The Paperboy sound pretty good. It isn't.
Journalist Ward Jansen (Matthew McConaughey) returns to his hometown in Florida to investigate the story of death row inmate, Hillary Van Wetter (John Cusack). The man stands accused of murdering a local sheriff. Ward and his associate reporter, Yardley Acheman (David Oyelowo), suspect Van Wetter may have been the victim of redneck justice and believe that if they can prove judicial wrongdoing, it could bolster both of their careers.
They are joined in their enquiries by Charlotte Bless (a peroxide-wigged Nicole Kidman), who has been writing to Van Wetter whilst he has been in prison. She has never met him but is obsessed with the idea of finding love on death row. Ward's younger brother is Jack (Zac Efron). He grows infatuated with Charlotte and through the course of this fixation – and the investigation into Van Wetter's possible innocence – Jack gradually loses his, becoming embroiled in the seedy lives of those around him.
Apparently, the film was originally intended to be the English-language debut of Pedro Alomodóvar. The Spanish auteur might have been able to bring a high camp coherence to proceedings but as it is, Daniels' direction hops, skips and jumps around without seeming to know how the story should play out next.
Efron and Macy Gray, who is great as the family's long-suffering maid and narrative voice, appear unscathed from the carnage, but The Paperboy is narratively flawed. It's sort of about the legal system in America. It's sort of a coming of age story. And it's sort of about the Civil Rights movement. But it's also about Nicole Kidman's Charlotte weeing on Zac Efron's Jack after a jellyfish attack and miming sex acts with John Cusack during a prison visit.
Adam has awarded The Paperboy two Torches of Truth