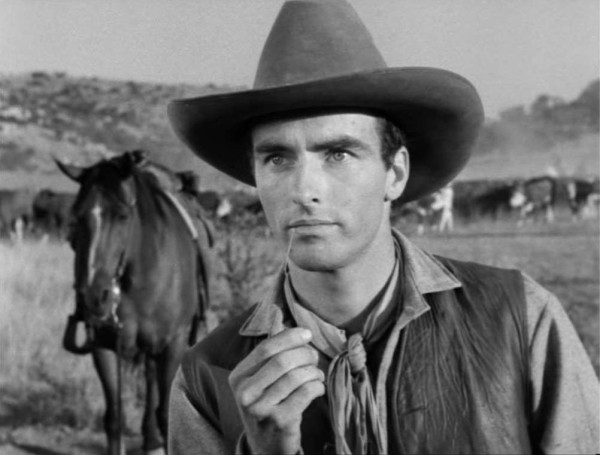 Howard Hawks' classic Western, Red River, focuses on world-weary cowboy Tom Dunson (John Wayne) and his young adopted son Matt Garth (Montgomery Clift). After 14 hard years, Dunson has built up a considerable cattle empire in southern Texas.
However, with the impoverished post-Civil War South not proving a suitable market for his beef, he is forced to lead his herd on an epic cattle drive over hundreds of miles to Missouri.
The film wonderfully captures a period in American history when the country and its vast expanses was still being shaped and men lived hard lives. Wayne has rarely been better and, for all his faults, its films like Red River where he shows that he can deliver an impressively haunted performance. Clift is equally compelling in his big screen debut and is never dwarfed by Wayne's considerable presence. Theirs is a battle between two different styles, one rugged and tough, the other considerate and just, both representing wildly different concepts of what constitutes masculinity.
The scale of the film is still mightily impressive today. The scenes of the vast herd of cattle being driven onwards, through rivers and down canyons, remain a true feat in themselves. Hawks and cinematographer Russell Harlan perfectly capture the sheer vastness of the American wilderness and really hit home just how wild and untamed this land once was.
Red River is filmmaking on an epic scale and showcases two icons – Hawks and Wayne – at their very best.
Extras
There is an in-depth discussion of the film between filmmaker Dan Salitt and critic Jaime N. Christley, which is an interesting watch. There's also a chance to hear the LUX Radio Theatre production of the film, recorded in 1949 with John Wayne and Walter Brennan reprising their roles. The 56-page booklet has extracts from an Andrew Sarris lecture on Hawks, Susan Liandat-Guignes BFI monograph, an interview from 1991 with the film's editor, Christian Nyby, and an interview Borden Chase, taken from Film Comment, Vol. 6, Issue 3, 1970, and, incredibly, Hawks' own response to Chase's arguments. Rounding things off is a short note by Peter Labuza, which discusses the two different released versions of Red River.
Rob has awarded Red River four Torches of Truth