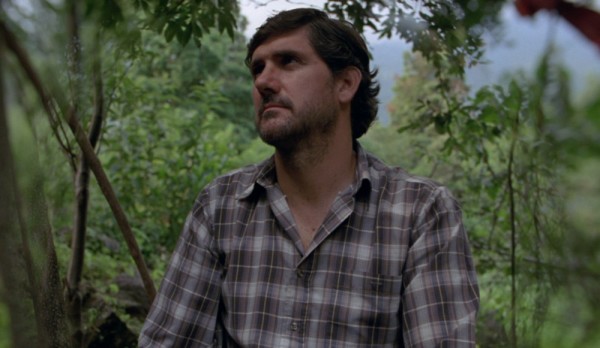 Post Tenebras Lux takes its title from a Latin phrase which means 'light after darkness'. The latest film from Carlos Reygadas won the Prix de la mise en scène (Best Director) at last year's Cannes Film Festival. Set in rural Mexico, PTL depicts the lives of married couple Juan (Adolfo Jiménez Castro) and Natalia (Nathalia Acevedo), their two children Rut and Eleazor, along with their pack of dogs.
Shot largely in handheld style, Post Tenebras Lux comes across as a collection of completely unrelated scenes assembled out of context and with scant regard for traditional depictions of screen time. Along with an intimate approach, the director regularly uses a distorted, quasi fish-eye camera lens for exterior scenes that creates a blurring ripple effect around the edges of the frame.
Forgoing any semblance of a linear narrative structure, Reygadas creates enjoyable natural moments of children at play and family life but also includes an illuminated large red naked goat man (devil?) walking around a family's home at night and a scene set in a French sex club that the Mexican couple appear to attend and enjoy. Why these scenes are juxtaposed is not explained – leaving the viewer to navigate their meaning – and though intriguing, their lack of connectivity becomes exasperating.
The experimental nature of Reygadas's aesthetic does offer much to be admired in terms of style and acting, particularly from Nathalia Acevedo. However as Post Tenebras Lux is bereft of a traditional narrative, there is little to engage with in the film bar a successive collection of unexplained scenes. The film does, however, include possibly the most perplexing but believable self-decapitating to ever grace the big screen.
Mairéad has awarded Post Tenebras Lux two Torches of Truth