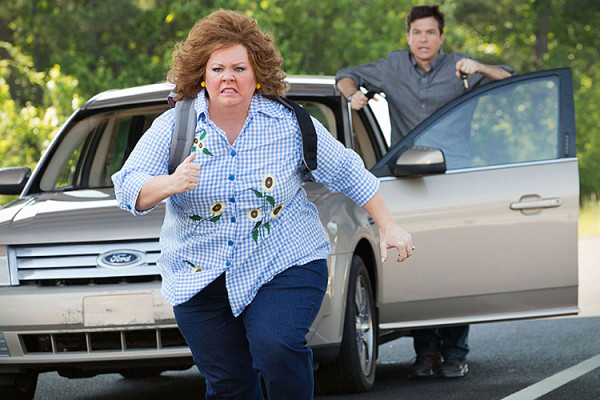 Mild-mannered business and family man, Sandy Patterson (Jason Bateman), has a pretty ordinary life until one day he discovers he's been the victim of that great modern fear: identity theft. The wronged individual then takes off from Denver to Miami in order to confront the mystery thief, save his job and regain his much-coveted identity. Once Sandy finds the fake "Sandy Patterson", he soon realises all is not what it seems…
Coming off the back of mega-hit Bridesmaids, Melissa McCarthy is teamed up with Jason Bateman. On paper it possibly felt like a dream team pairing was in the offing. Yet that's where any semblance of comic potential ends as we enter a laugh-free zone of epic proportions. McCarthy is woefully used and her thief is nothing more than a one-trick pony in every scene. Gone is the frank humour she offered in her breakout film Bridesmaids or Mike and Molly. Here she is completely reined in with only a shade of inventiveness coming across. Bateman just looks embarrassed, plain and simple. The actor is never given a chance to inject personality into his role playing it so straight you would think a rod is stuck down his back.
Ultimately what hampers Identity Thief is a very poor script. The pranks are so predictable that it's near painful to endure. That they're recycled time and again highlights the level of invention and aims of Seth Gordon's movie. With plot holes galore scattered throughout, the film lays something of a gauntlet down to its audience.
Identity Thief is a major let-down that not even the combined talents of Bateman or McCarthy can save. Perhaps the players and filmmaker hoped a promised chemistry would paper over the cracks in the concept as if nobody would notice the inherent flaws.
With zero laughs comes fumbled responsibility. Gordon's film is a very poor effort that left this reviewer feeling cheated.
Mark has awarded The Identity Thief one Torch of Truth