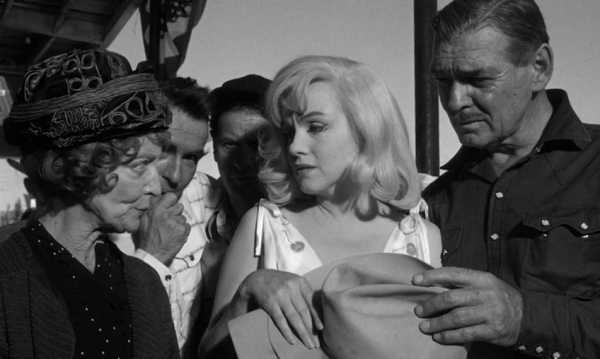 It is understandable how the stories and controversy surrounding a film's production can contribute to the way it's eventually perceived when released. John Huston's The Misfits (re-released this week) is famous for being the final film of Clark Gable and Marilyn Monroe before their untimely deaths, along with the on-set complications of Gable's complaints about his health and Montgomery Clift's rehab for drug and alcohol addiction. Apart from all that, The Misfits is a haunting and beautifully shot western drama that loses itself midway among the characters' camaraderie. Director John Huston presents a bleak and spectral Nevada where Arthur Miller's capering screenplay blossoms with vivacious characters and a slow-burn conflict.
After divorcing her husband (a blink and you'll miss him Kevin McCarthy), Marilyn Monroe's woozy Roslyn Taylor plans an impromptu trip across Nevada with her friend Isabelle (Thelma Ritter) and car mechanic Guido (Eli Wallach). Rugged cowboy Gay Langland (Clark Gable) tags along and the foursome drink, frolic and journey further to participate in a rodeo with his friend Perce (Montgomery Clift). Feuds occur after Roslyn dances, Gay falls in love and unveils a business plan, the nature of which stokes a fissure in the clique.
Monroe saunters dazed and melancholy in a manner that makes you wonder how much was performance given her constant inebriation and Gable is beguiling as the craggy, laid-back Gay. Considering how much he struggled working with Monroe, Gable's performance of a man in love is remarkable but it's Thelma Ritter who steals the show as Rosalyn's doting buddy, Isabelle.
The Misfits fails to totally enchant due to a laborious middle but the compelling characters and evocative imagery remain captivating throughout. Monroe dancing seductively in the moonlight and Gable pondering death are extremely poignant while great conflict eventually arises in the final third. It is possible The Misfits wouldn't have been as widely remembered and appreciated if it wasn't for the stories that made it famous, yet it remains a beautiful and evocative western with moments that stay with you long after viewing.
Daniel has awarded The Misfits (1961) three Torches of Truth