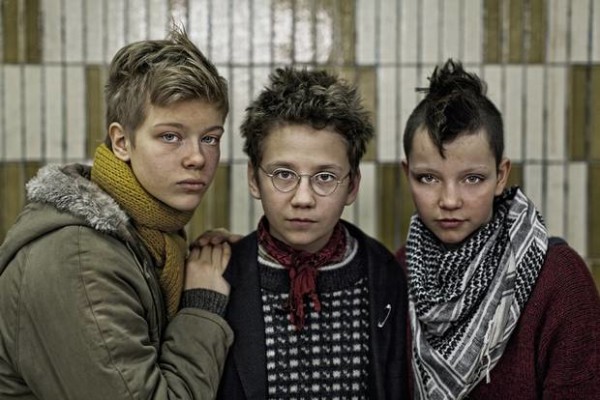 Based on the graphic novels of co-writer Coco Moodysson, Swedish director Lukas Moodysson has taken his wife's depictions of three 12 and 13 year old girls who form a punk band in Stockholm in 1982 and made them into a film of timeless quality. For mohawk-touting Klara (Mira Grosin) and short haired Bobo (Mira Barkhammar), Punk is far from dead. These two girls share the sort of pre-teen bond that is comfortably insular, while luxuriating in untested certainty of their budding political and musical beliefs that demand long conversations on the phone after spending all day together at school.
Proving a musical point over the local heavy metal school (boy) band, Klara and the more contemplative Bobo begin their own Punk band. Realising that knowledge of Punk music does not necessarily create actual music, the girls decide to conscript their Born Again Christian loner classmate Hedvig (Liv LeMoyne) after Hedvig performs an unappreciated classical guitar piece at school. Hedvig's calm, more considered presence changes the dynamic between Klara and Bobo highlighting both the strengths and weaknesses of their friendship.
We Are the Best! ultimately culminates in a Punk band showstopper which interweaves an understanding of the legitimate highs and lows of being a young teen and very refreshingly in this instance, from a girl's perspective. The film looks at the adult world through the watchful eyes of judgemental pre-teens, revealing a multiple of truths along with the humour of family life. Klara rails against the clearly loving environment she is surrounded by while Bobo proves to be the true adult in her relationship with her mother. As the girls take tentative steps into a more adult life with boys, drinking and their identity, director Moodysson beautifully captures the fragility and brave confidence naivety can induce. The three leads are wondrously natural on screen lending the film a near documentary feel.
The period details are well observed but are not used in a heavy handed manner, allowing the film both a context but also a timelessness that highlights the feelings of the girls rather than just the setting. We Are the Best! is subtle in its emotional complexity while enjoying the joie de vivre of being young with one's whole life ahead, experiencing everything for the first time with your friends.
Mairéad has written something on how much she loves cinema from this part of the world – check it out in the upcoming Adaptations edition of New Empress Magazine. 
Mairéad has awarded We Are The Best! five Torches of Truth