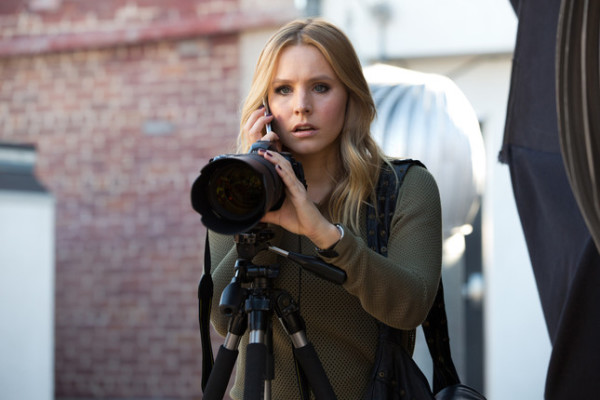 Veronica Mars lasted three seasons before the network pulled the plug. It was no Firefly-like disaster, but still, it hurt. Veronica Mars died an early death, there's no two ways about it. Series creator Rob Thomas, however, refused to let his creation vanish into popular culture history without a proper send-off. It took more than a few years to get his filmic continuation up and running. But now Veronica Mars is back in feature-length form, thanks to Kickstarter and the power of the fans.
One of the most intriguing aspects of the series – compared to other shows of its ilk – was often how dark the subject matter it dared to be. Season One dealt with Miss Mars (Kristen Bell) attempting to track down the killer of her best friend (an early and memorable role for Amanda Seyfried), but also the mystery of her own date rape. Season Two pushed things even further.
The general milieu too – an upper-class California town (Neptune) – is packed with horrid adult characters and their bratty spawn, whose arrogance matched their parents' bank accounts. Mars was part of this '09ner' crowd before being rejected. She moves through a dark world with the only anchor being her dear old dad, Keith Mars (Enzo Colatoni), and nerdy pals. The relationship between father and daughter brought sass, verbal sparring and plenty of heart. It was a smart portrayal of a close family bond in a stinking pool of everyday horror. The movie, thankfully, hits the same winning beats as the television show.
The film picks up with Veronica Mars all grown up. And no, she didn't join the FBI (one of the movie's many in-jokes that fans will love). She's all set on becoming a lawyer until a man from her past, a certain Logan Echolls (Jason Dohring), asks her to return to Neptune when he's charged with the murder of his pop star girlfriend.
Thomas the director lacks the essential cinematic style of a Whedon or JJ Abrams – the film looks bland and televisual – but he delivers in spades on the key elements the fans demanded: Veronica Mars doing her thing and a murder mystery with plenty of twists and turns. Not everything ties together so neatly, however. A subplot involving the corrupt Neptune police department could have been another movie, or VM adventure, entirely.
If it's the last time we ever see the character, what we have is both a brilliant return and fitting farewell.
Martyn has awarded Veronica Mars four Torches of Truth

Release info:
"Veronica Mars" will be available through the following retailers in the UK from 14th March: iTunes, Google Play, Sky Store, Virgin Media, BT TV, Blinkbox, Xbox Video, Playstation Store, Dixons KnowHow Movies, Wuaki and UPC in Ireland
"Veronica Mars" will be showing at the following cinemas in the UK from 14th March: Empire Cinemas – Leicester Square (London), Birmingham and Newcastle, Showcase Cinemas – Dartford (London), Glasgow, Manchester, Cardiff, Bristol, Leeds and Nottingham and in Ireland at the [email protected] cinema in Dublin.