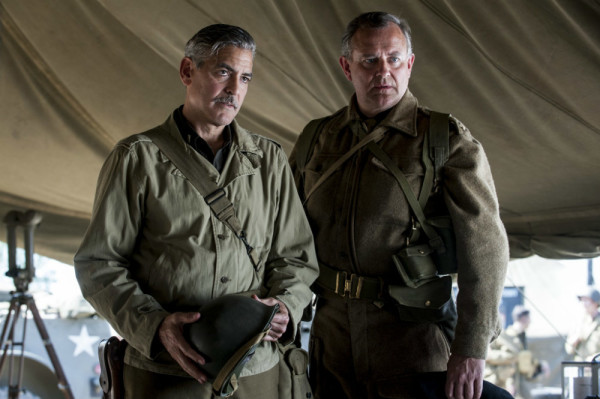 Director Harmony Korine in an interview, a few years ago now, reiterated a declaration once made by Bernardo Bertolucci, about how they were willingly die for cinema. Such a passionate utterance could (should?) be sneered at as daft romantic fantasy and a clear case of overzealous cinephilia. However, a select group of professors and experts posed to themselves the very same sentiment and subsequently risked (and sacrificed) their lives during the final months of WWII to track down art works stolen from private collections (very often Jewish) by the Nazis in France, Italy, Poland, Belgium and other countries the Third Reich invaded.
The Monuments Men has all the right ingredients for a cracking thriller – one of those race-against-time deals with the highest stakes imaginable (cultural legacy as a metaphor for our humanity and collective soul). Its themes are fascinating and potent, indeed. So why on earth does the film fail to resonate?
Well, it's delivered as a cluttered multi-stranded drama zipping hither and thither across war-ravaged Europe. The tone (the schmaltz, especially) is very Spielbergian, but without the legendary film-maker's clear sense of storytelling. George Clooney does at least try to shape the overall plot around the retrieval of two specific pieces: a Michelangelo Buonarrotti sculpture and panels stolen from a place of worship in Ghent.
Cate Blanchett's sexy French secretary (what else?) is something of a narrative lynchpin rather than a token female presence. Claire (Blanchett) has worked closely with the Nazis (under duress) at a Parisian gallery and may well hold the key to where the goose-stepping morons/artnappers are hiding the purloined goods. But zut alors! Matt Damon must befriend the suspicious dame and – for the sake of art history potentially bed the lass – before she agrees helps out!
Clooney is as charismatic and engaging as ever, but aside from an individually brilliant scene shared with a smug SS officer, which finely depicts the Arendtian concept of 'the banality of evil', it's left to Bob Balaban and Bill Murray, as a bickering-rivals double act, to steal the movie from under the noses of everybody.
Writer Gilbert Adair once stated that art is 'whatever lasts'. Clooney's latest picture is far from the work of a master and is akin to the film's own assessment of a Hitler painting: 'Not bad, but not good, either.'
Martyn has awarded The Monuments Men three Torches of Truth