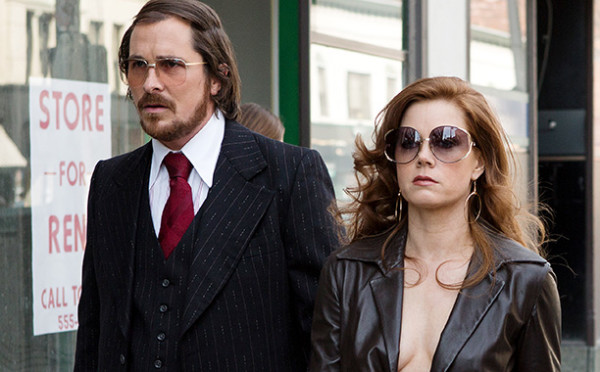 Now that American Hustle has been nominated for a poop-load of Baftas to go along with the Golden Globes and the inevitable Oscar nominations, it seems almost mandatory that we provide you with a review of this star-heavy Hollywood juggernaut from Silver Linings Playbook writer/director David O. Russell. American Hustle does seem to have a lot going for it, at first glance. Problem is that all that promise stays resolutely on the paper.
Christian Bale's character Irving Rosenfeld isn't the usual specimen of good looks and slime that you would expect from a hustler and that obviously works in his favour. We first see him in the cracking opening moments of the film artfully arranging and lacquering his elaborate comb-over, a scene that is fascinating and builds expectation for the sort of film that never comes to fruition. After those opening moments when we are introduced to the main protagonists, Rosenfeld, Richie DiMaso (Bradley Cooper), Sydney Prosser (Amy Adams) and Mayor Carmine Polito (Jeremy Renner) but without knowing who they are, we are thrust back in time to when Rosenfeld and Prosser meet for the first time and decide to become hustling partners in crime. DiMaso then makes an appearance as an undercover FBI agent who hoists the two of them by their hustling petards and forces them into trapping public figures, including Renner's character, with schemes that turn out to be as elaborate and flimsy as Rosenfeld's comb-over.
Bale is mesmerising as Irving Rosenfeld; his large belly and hair serve as a great distraction, you could totally forget that he had ever played Patrick Bateman and Bruce Wayne. He is probably the star, if claiming to be the star in this lengthy slog of a film (138 mins) is anything to gloat about. Jennifer Lawrence gets a lot of the good lines and Cooper's character has a lot in common with many of his recent roles; mercurial, intense and permanently looking like he's about to orgasm. Amy Adams is done a great disservice by her role, she gets to be the stereotype of the film, even more so than De Niro (A.N. Mob Boss) and Lawrence. The constant display of Adams' chest area might be worth an awards nod for best supporting bosom-tape.
The 70s setting and score of American Hustle is awesome and saves the film quite a lot of its dignity but, apart from the era, there is nothing defining about this film except the patchwork mob film flavour; it really doesn't seem to know what it's trying to be. There is a pretty weighty moral to the story and it does provide some laughs but remains ultimately unlikeable. Silver Linings Playbook may seduce people into seeing American Hustle in the cinema but it shouldn't be responsible for that film winning anything this awards season, apart from best hair and make up.
Maryann has awarded American Hustle two Torches of Truth