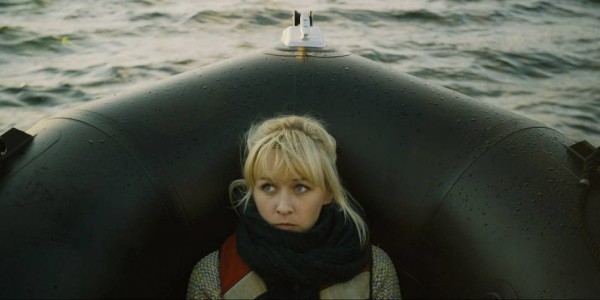 With the death of her grandmother, Anna (Marie Blokhus) is persuaded to return from her sophisticated life in Germany, to her native Norway to attend the funeral. As Anna resurfaces in her old life after a decade away, so do long unspoken relationship issues with her grandfather Johannes (Sven-Bertil Taube) and ex-boyfriend Håvard (Tobias Santelmann).
The Norwegian summer sunshine is cooled by the white, sea blues and black used by director and writer Rune Denstad Langlo as the characters begin to thaw emotionally. Though the story of someone returning to a past they prefer to block out is not a new one, Chasing the Wind does distinguish itself in all the things that are worked out through what is unsaid or with the sort of jagged edges only well established relationships can survive.
The film is concerned with the depth of feeling that can be shared between people who are flawed but none the less, inextricably interconnected. Though not necessarily the most memorable of films, Chasing the Wind does manage to be touching without recourse to cloying catharsis and retains a real sense of adult dignity.
Chasing the Wind is showing on 06 December at Edinburgh Filmhouse and 08 December at Glasgow Film Theatre. More info.
Mairéad has awarded Chasing the Wind three Torches of Truth