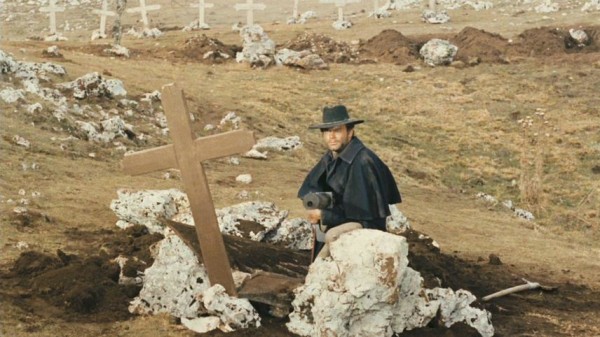 The gunfighter known as Django is hired by a crooked politician to act as hangman in the execution of innocent people, all of whom have been framed because he wants to get hold of their land, with as fewer obstacles as possible. Django, however, has other ideas and fakes the deaths of the sentenced folk, in return they join his gang in order to seek revenge on the sleazy and corrupt boss who, years earlier, caused the death of Django's wife.
Buoyed by the success of Tarantino's Django Unchained previous iterations of the cult cinema figure have enjoyed a reissue. Franco Nero, star of Sergio Corbucci's 1966 original, did not reprise the role that made him an icon (he eventually returned for Django Strikes Again, in 1987). The lead was given instead to Terence Hill, who does bear a striking resemblance to Nero.
The film follows the trusted formula of countless Spaghetti Westerns with lurid violence and well-imagined action choreography. There are a couple of epic set pieces, here, one involves a burning saloon with a gunfight happening inside. But it's not until Django digs up his trusted Gatling gun that the film lets rip. The scene makes for a superficially satisfying moment – as Django mows down an assortment of baddies – but it comes a bit too late for Ferdinando Baldi's flick to have any greater dramatic impact.
The musical score is an often celebrated aspect of Spaghetti Westerns. The use of howling trumpets when the camera zooms in on a Django's electric blue eyes or the soft acoustic guitar playing, during more sombre moments, shows that Gianfranco Reverberi knew how to conduct a memorable accompaniment.
Extras
Django Explained is a short retrospective look at the world of Django films with author Kevin Grant. Whilst informative, this featurette could easily have done with expanding on certain areas. As such, it feels like it barely scratches the surface of the Django brand. If you're a Spaghetti Western fan, a Django fanatic, or your interest was piqued by Tarantino's rcent film, Django, Prepare a Coffin is recommended viewing.
Mark has awarded Django, Prepare a Coffin four Torches of Truth