By David Katz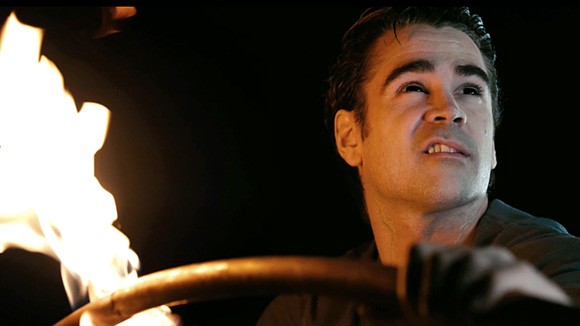 Fright Night (2011) is released in the UK on 2nd September giving fans of the original the opportunity to judge its steel as a remake awakening a whole new generation to this beautifully quirky horror yarn. Personally, I found the remake an entertaining, briskly paced film, equally comfortable with light-hearted humour and provoking genuine menace. Anton Yelchin is the everyman high-schooler who discovers a vampire (Colin Farrell) has moved in next door, with his sights set on devouring the neighbourhood. Yelchin's character seeks the help of Vegas vampire guru Peter Vincent (David Tennant), and 3D carnage, laughs and surprises ensue.
On the run up to the Film4 FrightFest we've managed to get some of the major players of Fright Night 2011 to offer up a few quotes about their on-set experience and their hopes of pumping some fresh blood into a classic story. Chris Sarandon, the vamp in residence from the original film, also chips in.
 On the quality of the Fright Night script:
Craig Gillespie (director): I hadn't really been dying to do a vampire movie. I felt like there was so much of the vampire stuff out there and I'd been working on a couple of smaller projects I was trying to develop. Then DreamWorks sent me the script for "Fright Night" and it was a great blend of horror and humor. I love mixing genres and I couldn't stop thinking about it and visualizing it, so I went for it.
Anton Yelchin (Charley Brewster): I thought the script was very solid, with a very relatable arc for my character of Charley. He's a kid who loses track of what's valuable to him and then he's faced with something that threatens to take away everything that is precious. He struggles through a lot of guilt and remorse but overcomes that to protect the people he cares about. That's a very relatable story to me.
Marti Noxon (Screenwriter): Once I decided to work on the project, it became one of those once in a lifetime experiences. Craig was amazingly collaborative and let me into the process a lot more than some directors might. I saw right away that he understood exactly what I was seeing myself. I didn't get rewritten a million times, which was really kind of amazing and we'd love to work together again. This really was the ideal project.
On Colin Farrell's portrayal of Jerry:
Craig Gillespie: I thought he was perfect. Anton's playing a boy who's trying to come into manhood and Colin gets to play the alpha male he has to challenge to get there. It's a classic male confrontation and a very primal situation where two males come together and face off. Colin is so clearly the dominant species in that relationship, both because he's a vampire and because he's just Colin. He just stepped in there and was so in the zone. He's got no fear and has a very primal sense of what's going on. Colin added a lot of little details to the role of Jerry that really brings him to life.
Colin Farrell: The screenwriter, Marti Noxon, designed the character in a very particular way. She wanted Jerry to be the kind of vampire that is more malevolent, violent and cruel than the vampires who have been presented onscreen in recent years.
Chris Sarandon (Jerry in the original Fright Night (1985)): First of all, to me, Colin is the right age.  He's a mature man and he's not a boy. Colin also has an indefinable quality and charisma that comes across onscreen. There's something very special about him, plus he's very funny and very smart. All of these qualities are important for the character of Jerry, as well as being dangerous.
On the current vogue for vampire flicks:

Marti Noxon: I think vampire movies have always been sexy. If you go back and look at the original Dracula, the biting is obviously a metaphor for sex. Frank Langella was dead sexy. I still remember him walking through those gauzy white curtains, with his shirt open. I didn't know what was happening in my body, but I thought, "This is all good." What's inherent in the vampire myth is carnality and the longing for eternal love.
Imogen Poots (Amy): I think the fascination has developed because the vampire is such a malleable creature and represents hyper-sexuality and religious imagery. "Fright Night" is a movie that goes back to the original form of the vampire, which is that they are predators in a horror environment.
Chris Sarandon: I was also happy to see that they went back to the older tradition of the vampire genre as opposed to what's been happening for the last seven or eight years in "Twilight" and "True Blood." Jerry isn't a romantic vampire. He's much more in the tradition of Bela Lugosi, Nosferatu and Bram Stoker – a vicious killer.