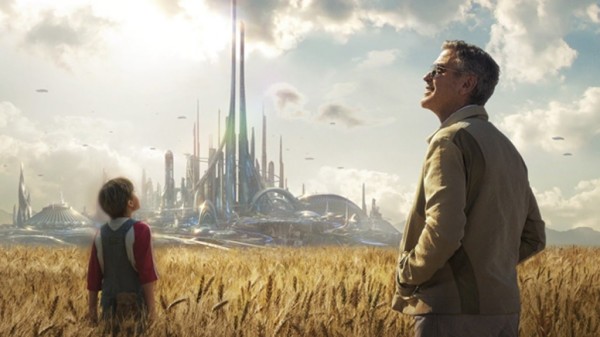 Disney continue its run of nostalgic live action productions following Kenneth Branagh's antiquated Cinderella (2015) and 90s style baseball romp Million Dollar Arm (2014) with Tomorrowland: A World Beyond: a wistful, family sci-fi that evokes the likes of Escape To Witch Mountain (1975) and The Cat From Outer Space (1978) alongside 80s Amblin and sci-fi comedies Evolution (2001), Men In Black (1997) and Galaxy Quest (1999). Yet, despite the obvious comparisons, TAWB has a unique central concept with ostentatious genre philosophies that imbue the plot with a welcome depth.
Britt Robertson plays dishevelled teenager Casey: a science hungry teen with a rebellious streak who is arrested for breaking into NASA and sabotaging its operations. After making bail, Casey discovers a mysterious pin which, when touched, momentarily transports her to Tomorrowland: a technically advanced and thriving, urban utopia. With the help of a mysterious young girl Athena (Raffey Cassidy) and eccentric inventor Frank Walker (George Clooney), Casey sets out to return to Tomorrowland but her journey is thwarted by technical conundrums, family conflicts and mechanical government agents.
Writer/ Director Brad Bird and co-writer Damon Lindelof craft a disjointed but fascinating story based on the EPCOT centre theme park ride; blending astrology, time travel and engineering with family drama. TAWB is adorned with unique themes and a lively manner but is hindered by an often sketchy execution. The script is unfocused with a jerky lack of confidence but remains playful while the pace eventually gathers as inventive set pieces and intriguing twists unravel. A muddled first act leads way to some colourful but clumsily crafted action combined with adolescent angst and Walker's oddball antics. This counteracts the surprising suspense scenes, allowing the story to slow for a modest finale.
TAWB is fun, flawed and full of invention yet lacks a strong, distinctive vision. Clooney is affable, channelling Dick Van Dyke, and Hugh Laurie's morose mogul Nix is a cumbersome antagonist but the kids are all solid despite occasionally rankling. TAWB fails to blossom into magnificence despite having all the components to do so but retains that irrefutable Disney eminence, amounting to a satisfying, thrill-packed viewing and fun for all the family.
Daniel has awarded Tomorrowland: A World Beyond three Torches of Truth